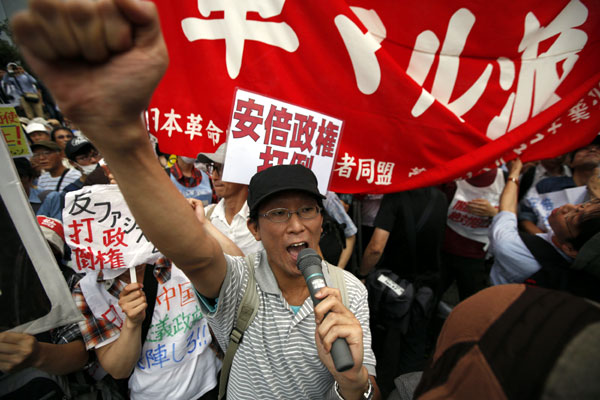 Protesters shouts slogans during a rally against Japan's Prime Minister Shinzo Abe's push to expand Japan's military role, in front of Abe's official residence in Tokyo July 1, 2014.[Photo/Agencies]
Beijing
 - China on Tuesday urged Japan to respect Asian neighbors' security concerns and not to harm China's sovereignty and security interests as Japan approved a resolution to allow it a larger military role in Asia.
For historical reasons, Japanese policy moves in military and security fields are closely watched by its Asian neighbors and the international community, Foreign Ministry spokesman Hong Lei told a daily press briefing.
The Japanese government has recently provokes disputes on historical issues and made unprecedented dramatic changes to its security policy, he said.
"People cannot but question whether Japan will change the peaceful development path it has long stuck to since the end of World War II," according to Hong.
He also noted a strong opposition within Japan against the right to exercise collective self-defense, saying, "The development path of Japan should be decided by the Japanese people."
"We oppose Japan's fabrication of the so-called China threat so as to serve its domestic political purposes," Hong added.
"We urge the Japanese side to earnestly respect legitimate security concerns of its Asian neighbors, deal with relevant issues with discretion, not to harm the national sovereignty and security interests of China and not to undermine regional peace and stability."
The Japanese cabinet on Tuesday rubber-stamped the resolution to allow the country to exercise the right of collective self-defense by reinterpreting the pacifist Constitution, and paved the way for Japanese forces to fight abroad in defense of "countries with close ties."
Exercising collective self-defense is a dramatic change in Japan's defense stance and has triggered concerns at home and abroad.
According to a survey conducted between June 27 and 29 by Japan's Nikkei News, half of Japanese oppose Japan exercising collective self-defense as they believe the rights may drag Japan into war.