It might be annoying for many that there have not been many good things talked about lately regarding the China-US relationship by either politicians or the news media, but that was not the case on Monday, the first day of the three-day 2014 EducationUSA Forum at the Washington Hilton.
Travis Tanner, senior vice-president and CEO of the 100,000 Strong Foundation, said his organization will launch a partnership states initiative, known as America Strong, later this year so that those states which already have robust relations with China can set examples for other states that want to pursue similar pathways to ensure their residents have similar opportunities to learn more about China.
Louisiana will become one of the first partners and will announce several initiatives to strengthen Chinese language learning opportunities for their students.
The foundation, set up in January 2013, is an offshoot of the US State Department's 100,000 Strong Initiative whose goal announced by President Barack Obama during his visit to China in November 2009 was to send 100,000 American students to study in China in the next four years.
As of last year, the number of American students under the initiative had reached 68,000. Last year alone 25,000 American students studied in China. This year's number, yet to be released, is expected to bring the total quite close to the 100,000 target.
However, that still contrasts sharply with the 235,000 Chinese students studying in US universities and colleges last year, according to an Institute of International Education report.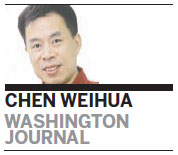 At the same time, the number of Chinese studying English is more than 600 times larger than the number of Americans who study Chinese, a fact that former Los Angeles mayor Antonio Villaraigosa used a year ago to encourage more students to study Chinese.
"So there is a significant gap there to close and to work on," said Tanner.
Besides the upcoming states partnership, the foundation has already launched signature partners, in which a selected group of partners, such as the China Institute, Asia Society, and American Mandarin Society, were selected to work with the foundation to advance the mission.
The foundation, meanwhile, has also created a 100,000 Strong student ambassador program to select 100 American students each year to serve as ambassadors at the grassroots level.
These students have studied abroad in China and have a deep understanding of Chinese culture and history. As "ambassadors", they not only share their transformative China experiences, but also play a vital role in furthering the foundation's mission.
Tanner is optimistic about the upcoming states partnership initiative, citing the fact that many US governors are very focused on their relationship with China, leading trade delegations there on a regular basis, encouraging students to go abroad and attracting Chinese investment to their states.
"(There is) a lot happening at that sub-national level. We hope education exchange will be a part of that energy of what's going on at sub-national level," Tanner said.
"The bottom-line is that we have to have Americans who know Chinese, speak Chinese, who understand China and who can build partnership," he added.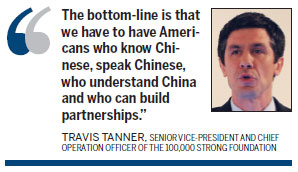 On May 31 to June 1, the foundation and WorldStrides, a large education travel organization in the US, organized the first-ever US-China Student Summit in Beijing, bringing together some 200 American university students from more than 30 US campuses and some 200 of their Chinese peers. They met government officials, academic administrators and professors and cultural leaders from both countries.
In a June 5 op-ed on Huffington Post, Jim Hall, president and CEO of WorldStrides, and Carola McGiffert, president of the 100,000 Strong Foundation, described the summit as about more than just a trip to China. "It is about enhancing cross-cultural understanding and sparking interests in studying abroad and language learning," they wrote.
"Study abroad can be an intimidating undertaking, particularly for students from underrepresented communities who might never have thought it possible. These Americans - from every background, from all across the country - have never been to China before. Many of them will catch the China 'bug' and choose to make China part of their lives."
Talking about the fast growing number of Chinese students studying in the US - a rise of about 20 to 30 percent annually over the last five years - both Hall and McGiffert believe the US needs to do more to encourage Americans to embrace China, not only as a destination for study, but as a country they appreciate and understand. "We guarantee it will open the doors of opportunity," they wrote.
The foundation has raised $15 million from private donors to support American students to study abroad in China. The Chinese government has offered a strong helping hand with 20,000 scholarships for American students to study in China over the four-year period.
"We see the trend of education exchange as very positive aspect of the bilateral relationship," said Tanner.
Contact the writer at chenweihua@chinadailyusa.com.