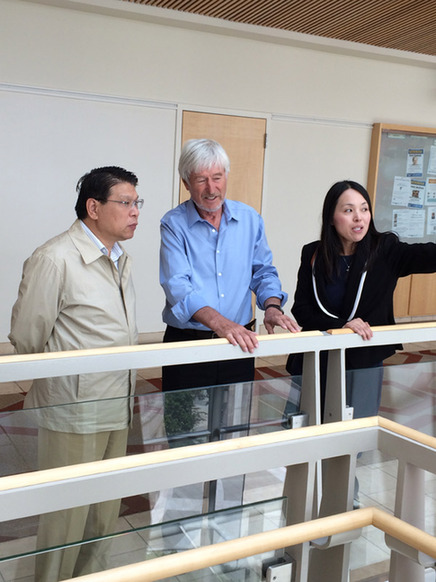 In this file photo taken in May, Hope Zhu (first right), founder of More Health, tours with her Beijing guest Xing Gao the lab of Regis Kelly, chairman of QB3 and a neuroscientist at the University of California San Francisco who also administers the development of academia-industry partnerships. [Provided to China Daily]
An increasing number of well-heeled Chinese are now flying abroad — especially to the United States — in search of better medical services. As a result, consultancy companies that help Chinese clients negotiate the geographical and language barriers are finding the time is right to expand their business at a more ambitious pace.
Beijing-based venture capitalist Huang Xiaoyuan felt her visit to San Francisco last week was very fruitful. Among all the new contacts she made through her trip, she regarded Hope Zhu, founder of More Health, a start-up specializing in providing cross-border medical consulting services, the person of most value.

Starting her company last year, Zhu sensed an urgent need from the deep-pocketed Chinese clients and decided to connect those who could afford it with world-class medical care and treatment. So far, More Health has taken on 20 cases throughout China and is expecting an influx of more patients.
"We have the top medical specialists in our talent pool," said Zhu. "We promise swift diagnosis conducted by both Chinese and US doctors with results within 24 hours. We have also implemented a safe global payment system."
"At my age, when I am ill, I need reliable information at my fingertips to fight the fight," said Huang, admitting that she does not have confidence in China's medical system. "Over the years, through my friends and family, I have witnessed several drug overdoses and instances of malpractice."
A visit to the doctor can be a difficult experience in China. Patients' complaints usually involve long waiting lines at public hospitals, lengthy diagnoses and lack of privacy, inflexibility in choosing trustworthy physicians, mediocrity in treatment and care and, most of all, medical negligence.
Given the huge discrepancy between expectations of the Chinese wealthy for medical services and what they receive in China, some industry insiders believe there is a vast market potential in guiding Chinese overseas for medical care. Among the few forerunners, Saint Lucia Consulting, which opened its Beijing headquarters in 2011, is so far regarded as China's largest provider of consultancy for cross-border medical services.
"Over the past four years, our team has provided Chinese corporate executives, and the wealthy elite and their families with highly personalized medical tourism facilitation services, expert translation services and informed advice on their overseas medical treatments," said Cai Qiang, CEO of Saint Lucia.
Saint Lucia has a contractual relationship in the US with Partners HealthCare, the largest network of hospitals affiliated with Harvard Medical School, and includes Massachusetts General Hospital, Brigham and Women's Hospital, Dana Farber Cancer Institute, McLean Hospital and Spaulding Rehabilitation Hospital, according to Cai, who said they also work with the Mayo Clinic, the MD Anderson Cancer Center, John Hopkins Hospital and the Cleveland Clinic.
According to statistics from the Shanghai Medical Tourism Products and Promotion Platform, every year around 60,000 Chinese travel abroad to seek medical services ranging from anti-aging therapy, cancer screening and treatment, giving birth and chronicle disease treatment. This phenomenon could gain even more momentum in the foreseeable future, said Yan Jian, CEO of the Shanghai agency.
Completing 20 cases within one year is only the start, said Zhu, adding the More Health now has three to five new cases coming in each week.
Contact the writer at junechang@chinadailyusa.com