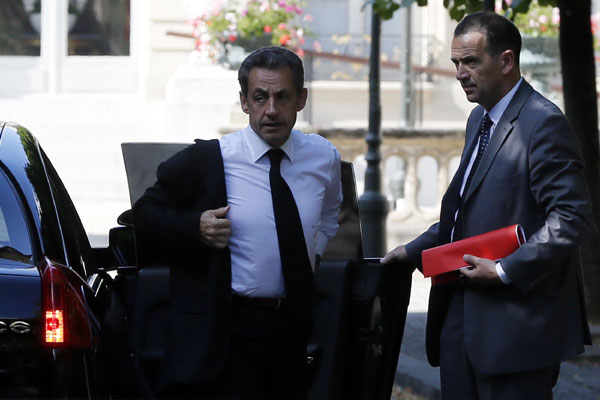 Former French President Nicolas Sarkozy (L) arrives at the National Assembly in Paris June 25, 2014. The UMP party's youth movement (UJP) awards France's former President with "Le Prix de l'Appel du 18 juin".[Photo/Agencies]
PARIS - Former French President Nicolas Sarkozy was held on Tuesday for questioning into suspicions that a network of informers kept him abreast of a separate inquiry into alleged irregularities in his 2007 election campaign, a legal source said.
Local media said it was the first time a former head of state had been held for questioning in modern French history. The conservative politician denies wrongdoing in a string of investigations which could derail his hopes of a come-back after his 2012 presidential election defeat by Francois Hollande.
Sarkozy arrived early Tuesday to be quizzed by investigators at their offices in Nanterre, west of Paris, after his lawyer was held for questioning on Monday.
"Mr. Sarkozy has been summoned to Nanterre and is being held for questioning," the source told Reuters.
Asked about the matter, French government spokesman Stephane Le Foll said Sarkozy was "subject to justice just like everyone else."
"Justice authorities are investigating and have to go all the way," he told i
The former leader is the focus of an investigation launched in February into whether he sought to use his influence to get information about a separate inquiry into allegations that late Libyan leader Muammar Gaddafi funded his 2007 election campaign.
Investigators suspect Sarkozy and his lawyer kept tabs on the case by using a network of well-connected informants, which only came to light following phone taps.
Sarkozy has likened the magistrates behind the phone-tapping to the "Stasi" police of former Communist East Germany.
Two legal officers with prosecutor roles, Gilbert Azibert and Patrick Sassoust, are also being held for questioning. Investigators suspect Sarkozy had sought to get Azibert a promotion to Monaco in exchange for information.
The case is one of six legal investigations involving Sarkozy, including a new one this year into separate irregularities in his unsuccessful 2012 election campaign.