PARIS - Former French President Nicoals Sarkozy would be heard this week for the allegation of suspected illegal financing of his 2007 election campaign by L'Oreal heiress Liliane Bettencourt, a local media reported Monday.
"His hearing was initially scheduled last Friday. But... Nicolas Sarkozy was then unavailable. It is this week that the former president was summoned to Bordeaux (southern France) to answer many questions in charge of the case Bettencourt," the local broadcaster Europe 1 said.
Losing immunity from prosecution after failing to snatch a second term last May, Sarkozy's home and offices were searched by French police in July as part of investigation into the Bettencourt affair.
In 2010, a former bookkeeper of Bettencourt unveiled that 150,000 euros ($191,84) were offered to finance Sarkozy's 2007 campaign, while French law limits donations to parties to 7,500 euros per person per year with only 150 euros given in cash.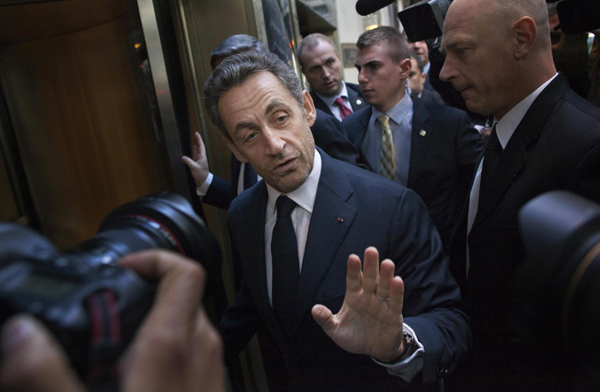 Former French President Nicolas Sarkozy arrives for an event hosted by Brazilian investment bank BTG Pactual at the Waldorf Astoria hotel in New York, in this Oct 11, 2012 file photo. [Photo/Agencies]