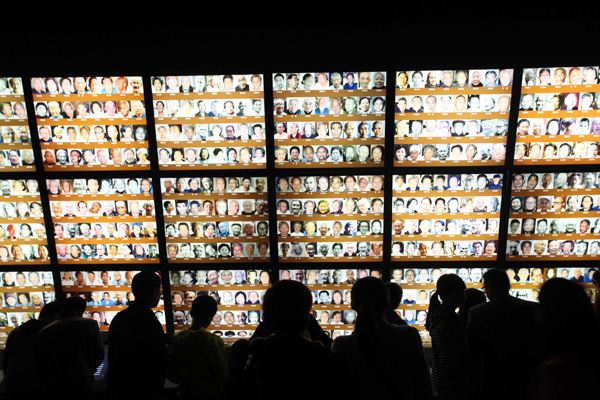 Visitors examine photos of survivors at the Nanjing Massacre Memorial Hall on April 5, Tomb Sweeping Day. At least 300,000 Chinese civilians and unarmed soldiers were killed by invading Japanese troops after they took the then Chinese capital in December 1937 and began a rampage of arson, looting, raping and killing that lasted more than six weeks. LI WENBAO / FOR CHINA DAILY
Seoul may follow Beijing's lead and submit an application to UNESCO to record for future generations the trauma that "comfort women" experienced and archive them as part of the UN Memory of the World program, a senior Republic of
Korea diplomat said on Thursday.
Preserving the painful memories of the "comfort women" is a shared duty of great urgency for East Asia, and is not an issue of "political maneuvering", senior diplomats and observers from China and the ROK said.
Kim Dong-gi, director-general for cultural affairs of the ROK's Ministry of Foreign Affairs, told a China-ROK public diplomacy forum held in Beijing that he noted Beijing's application, and that the two nations share a common history in this regard.
Although Seoul is considering submitting an application, an official one has not yet been made, according to Kim.
"The spirit of UNESCO is to pursue peace, and we are able to cooperate," Kim said.
Tokyo protested on Wednesday against China's decision to submit an application. It has turned a blind eye to the behavior of its Imperial Army in forcing Asian women into sexual slavery, and has attempted to make the "comfort women" issue a diplomatic bargaining chip, some observers said.
Li Zhaoxing, president of the China Public Diplomacy Association and former foreign minister, said Japanese politicians "should have a correct understanding" of historical issues.
He made the remarks amid growing concerns among Japan's Asian neighbors about Japanese Prime Minister Shinzo Abe's explicit denouncement on Monday of the "Kono Statement", which apologized for Japanese wartime atrocities.
In 1993, Tokyo's chief Cabinet secretary, Yohei Kono, acknowledged that the Imperial Army had forced women into sexual slavery, and he called for further research and for the issue to be addressed in Japanese textbooks.
Lee Dong-ryul, professor of the Department of Chinese Studies at Dongduk Women's University in Seoul, said the "comfort women" issue is a "highly sensitive topic" in the ROK, and it is "a duty of the Japanese government" to face up to it.
Moon Heung-ho, dean of the Graduate School of International Studies and director of the Institute of Chinese Studies at Hanyang University in Seoul, said, "Japanese politicians clearly know that the wartime Japanese military command and Japanese government have a direct or indirect connection to the policymaking of establishing the 'comfort women' system."
Zhou Qing'an, a professor of public diplomacy at Tsinghua University in Beijing, said, "The frequent denial or denouncement of the Kono Statement made by Japanese politicians has projected one of the darker sides of Japan's national image."
zhangyunbi@chinadaily.com.cn