PUTRAJAYA - Malaysian deputy Foreign Minister Hamzah Zainuddin said here Thursday in a press conference that families of seven passengers on the missing MH370 flight had received 50,000 US dollars per claimant as advanced payment from the Malaysia Airlines (MAS).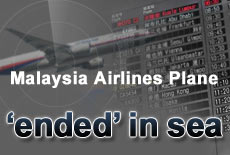 Hamzah, who led Malaysia's ministerial-level sub-committee to resolve the issues of the next-of-kin, said that the full payment would be paid after the issue of MH370 was over.
"Whether the plane is found, or we announce the plane is lost. There will be a time that we will announce certain issues," he added.
Hamzah said the seven claimants included six Malaysians and one Chinese national, while the identities of 40 claimants for missing Chinese passengers were being checked by the Chinese government.