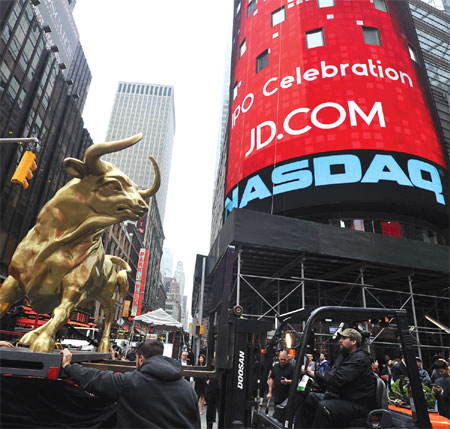 Electronic screens in New York City display information about JD.com's IPO last month. The retail site raised $1.78 billion in the May offer. Xinhua
Another Chinese company will go public on the New York Stock Exchange this week, and data show that the 10 biggest Chinese companies to list in the US in the last 12 months have seen an average return of 44 percent since their first day of trading.
And that compared with 25 percent for all US IPOs of more than $100 million in the same period, Bloomberg News reported on Monday. In that time, the Chinese returns have outpaced all global counterparts, Bloomberg said.

Josef Schuster, founder of Ipox Schuster LLC, a Chicago-based independent financial-services firm specializing in global IPOs, said that US markets provide a better trading infrastructure and a favorable pricing environment for Chinese firms, among other added benefits.
"It's eventually up to the firm where to list but a listing in the US can surely add to the novelty of a Chinese company and may help the marketing appeal," Schuster told China Daily.
IPOs and Chinese firms in particular are taking advantage of a "big window of opportunity," he said. And many of these deals help drive interest in "hot sectors," like e-commerce and consumer-related industries.
Of the 16 Chinese companies that have listed in the US this year, 12 are involved in the Internet technology and web services industry.
Francis Gaskins, the director of research for financial industry website equities.com, said one of the main attractions for a Chinese company to list in the US is "broader exposure to US institutions".
"Chinese IPOs have done pretty well in the US market because they have very good top line revenue increases," Gaskins said on Monday in an interview with China Daily. "The first thing to look at for a Chinese company is do they have a good branding position."
Zhaopin Ltd, a Beijing-based Chinese jobs website operator, is scheduled to go public this week at the NYSE.
Many of the Chinese companies listing in the US in the last year have seen solid returns.
E-commerce firm JD.com and Weibo Corp are two of better-known Chinese companies to list in the US in 2014.
JD.com, the largest direct seller of online goods in China, raised $1.78 billion in its IPO on the Nasdaq Stock Market in May, the biggest IPO by a Chinese company in the US, to date.
Weibo, a popular Chinese micro blog commonly referred to as "China's version of Twitter," netted $285.6 million during its first day on Nasdaq in April.
Since listing in the US, JD's shares have produced a return of 49.6 percent, while Weibo's stock has gone up a more modest 10 percent.
Some other companies that have had solid returns include: Autohome Inc, a car-information website that has gained 110 percent since a December IPO, and online classified ads provider 58.com Inc, which has climbed 140 percent since its IPO in October.
All of those listings pale in comparison to the proposed IPO for Alibaba Group Holding Ltd. A US listing for Alibaba, China's largest online marketplace and No 1 e-commerce firm, could exceed $20 billion, according to some estimates.
jackfreifelder@chinadailyusa.com