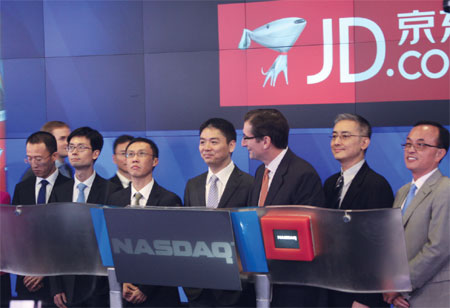 Richard Liu (center), founder and CEO of JD.com, awaits the opening bell with Bob Greifeld (third from right), CEO of NASDAQ OMX Group Inc, on Thursday at the Nasdaq Stock Exchange in New York. JD.com raised $1.78 billion dollars through its IPO, the largest US listing by a Chinese company to date, selling more than 93 million shares at $19. Jack Freifelder / China Daily
Chinese e-commerce site JD.com went public in an initial offering on the Nasdaq Stock Market that raised $1.78 billion and claimed the title of biggest IPO in the US by a Chinese company, to date.
"This moment belongs to every member of the JD.com family," JD CEO and founder Richard Liu said. "This is just a small step, but I want to thank all of the employees for their efforts," Liu said through a translator. "There is still a long way to go, but it is because of them that we are here at Nasdaq today."
JD, also known as Jingdong Mall and backed by Saudi billionaire Prince Alwaleed bin Talal, is the biggest direct seller of online goods in China. Operating out of its Beijing headquarters, it offers direct purchases of products from distributors and manufacturers through its website, and also oversees an independent network of delivery couriers and warehousing facilities.
Not only was Thursday's listing the biggest IPO in the US by a Chinese company to date; it also gave the firm a foothold in the US market ahead of its much larger rival, Alibaba Holdings Group Ltd, China's No 1 e-commerce firm. Alibaba's IPO, expected to be held later this year, could exceed $20 billion, according to some estimates.
Managers of JD's offering sold 93.6 million American depositary shares (ADS) at $19, above the marketed range of $16 to $18 apiece. Trading under the symbol "JD", shares opened at $19 and hit a high of $22.80 in the early morning before eventually closing at $20.90, up $1.90, or 10 percent.
Managing the deal for JD were Bank of America Merrill Lynch and UBS AG.
JD is the latest in a string of Chinese companies seeking to go public in the US. Last week, Jumei International Holding Ltd raised $245.1 million with its IPO on the New York Stock Exchange.
Kathleen Smith, principal at IPO investment advisory firm Renaissance Capital, said US investors have a penchant for companies based on an e-commerce model.
"US IPO investors are very interested in getting exposure to the explosive growth of e-commerce in China," Smith wrote China Daily in an email. "So far this year, the seven US-listed IPOs from Chinese companies have risen 10 percent on their first day of trading; however, all but one have traded lower from there."
JD has also secured a partnership with Tencent Holdings Ltd, a Chinese conglomerate with assets in media, entertainment and Internet services. JD and Tencent agreed to merge their e-commerce businesses in March, in a private stock deal that includes an offering of JD shares to Tencent subsidiary Huang River Investment Ltd. The deal is valued at $1.3 billion, according to Reuters, bringing the total raised through JD's stock offerings to nearly $3.1 billion. China is on course to overtake the US as the world's biggest online retail market this year with predicted sales of nearly $180 billion, according to New York-based market research firm eMarketer.
In an update to its IPO prospectus on Monday, JD reported a net loss of more than $600 million from January to March of this year. The company attributed the losses to a share incentive plan for Liu, the company's founder, who received a one-off, share-based bonus of $591 million in advance of the IPO on Thursday.
Liu said he wants to spend his time making sure the company emulates the success it has seen "over the last 10 years".
"We see a lot of examples where internal management has gotten out of control due to the fact that a lot of the managers spend time trying to please the shareholders," he said. "Instead of following that example I want to spend my time on managing the company, and it's my hope that this kind of growth will last for the next 10 years."
jackfreifelder@chinadailyusa.com