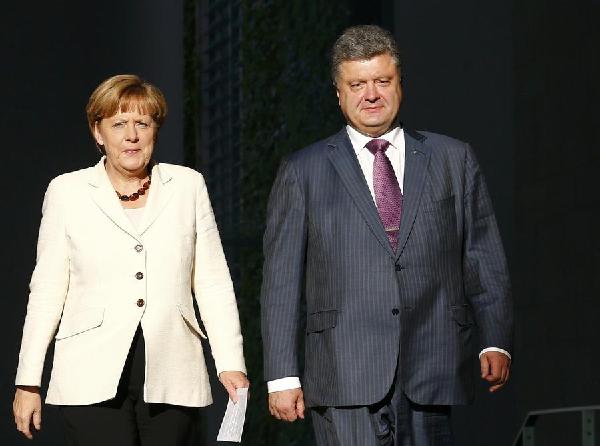 German Chancellor Angela Merkel and Ukrainian president-elect Petro Poroshenko arrive to address the media before a meeting at the Chancellery in Berlin, June 5, 2014. [Photo/Agencies]
KIEV - Petro Poroshenko was sworn in on Saturday as the fifth Ukrainian president at an inauguration ceremony in Kiev.
The ceremony in the Ukrainian parliament building, which was attended by dozens of foreign dignitaries, began with the National Ukrainian anthem and followed by shouting "Glory to Ukraine."
During the event, Poroshenko, who looked calm and self-confident, rested his right hand on the Ukrainian constitution and Gospel and vowed to serve the people of Ukraine faithfully and devotedly.
"I pledge with all my undertakings to protect the sovereignty and independence of Ukraine, to provide for the good of the Fatherland and the welfare of the Ukrainian people, to protect the rights and freedom of citizens, to abide by the Constitution of Ukraine and the laws of Ukraine, to exercise my duties in the interests of all compatriots, and to enhance the prestige of Ukraine in the world," Poroshenko said.
After the solemn pledges, Poroshenko signed the oath, and the head of the country's Central Electoral Commission Mykhailo Okhnedovsky handed him a certificate of his assumption of presidential office.
Then the head of the Constitutional Court, Yury Baulin handed Poroshenko the symbols of presidential authority: the flag, the seal and the mace of the Ukrainian president.
Just after official assumption of office, Poroshenko asked all the guests of the ceremony to hold a minute of silence in honor of those "who gave their lives for the freedom and independence of Ukraine" .
"I took the president's office to preserve and strengthen the unity of Ukraine," Poroshenko said.
Dignitaries from 56 countries and international organizations were attending the ceremony. European Council President Herman Van Rompuy and the OSCE Secretary General Lamberto Zannier were among the guests at the event.
Several heads of state were in attendance, namely Belarus' s Alexander Lukashenko, Lithuania's Dalia Grybauskaite, Poland's Bronislaw Komorowski, Germany's Joachim Gauck and Austria' s Heinz Fischer.
A special envoy of Chinese President Xi Jinping, Chinese Cultural Minister Cai Wu, was also attending the ceremony broadcasted live on the country's television.
The 48-year-old Poroshenko, a wealthy businessman and independent politician, won a victory in the early presidential election on May 25.