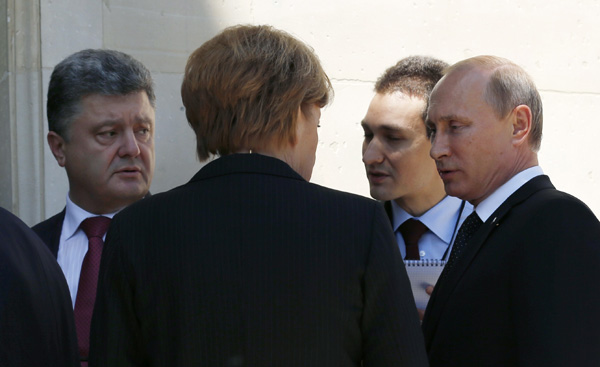 Ukraine president-elect Petro Poroshenko (L), German Chancellor Angela Merkel (C) and Russian President Vladimir Putin (R) talk after a group photo during the 70th anniversary of the D-Day landings in Benouville, France June 6, 2014. [Photo/Agencies]
PARIS - French Foreign Affairs Minister Laurent Fabius said on Friday the meeting of Russian President Vladimir Putin with Ukrainian President-elect Petero Poroshenko on the sidelines of D-Day landings ceremony was "important" for "reaching a ceasefire" in Ukraine.
"All work was done to ensure that the Russian and Ukrainian presidents meet and talk together. It's an important contact," Fabius said. "The aim is to reach rapidly a ceasefire that could prompt many other things."
On the sidelines of a ceremony to mark the 70th anniversary of D-Day Allied landings, Russian and Ukrainian leaders held their first talk since the standoff over Ukraine strained diplomatic relations between Moscow and Europe.
Seeking diplomatic grandeur to counter criticism over his failure to fix domestic economic troubles, French President Francois Hollande has betted on his political credentials to break the ice between Moscow and Kiev and pressed for dialogue to end peacefully Ukrainian crisis that could put Europe's security at risk.
Hollande's bet seemed won after the two leaders held short talks during an informal meeting over the situation in Ukraine earlier in the day in Normandy of north France.