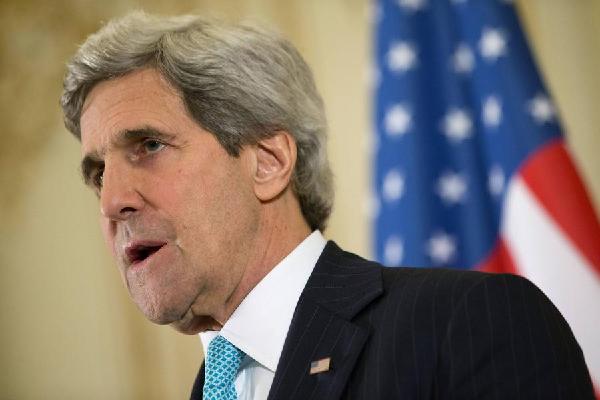 US Secretary of State John Kerry speaks during a news conference at the US ambassador to France's residence in Paris March 30, 2014, after a meeting with Russian Foreign Minister Sergei Lavrov about the situation in Ukraine. [Photo/Agencies]
Ukraine reported a gradual withdrawal of Russian troops from near its border on Monday, a development that may be linked to recent negotiations between Washington and Moscow on the crisis in the former Soviet state.
The announcement came following a four-hour meeting in Paris on Sunday between US Secretary of State John Kerry and Russia's Foreign Minister Sergey Lavrov that ended with an agreement to resolve the Ukraine crisis through talks.
Western powers and the new pro-European interim leaders in Kiev have expressed concerns that the Kremlin intended to seize heavily Russified southeastern parts of Ukraine in response to the fall in February of Ukraine's Moscow-backed president.
On March 16, the majority ethnic-Russian population of Crimea, which had been part of Ukraine since 1954, voted to rejoin Russia after a referendum supported by Moscow.
The Ukrainian defense ministry said the start of the troop drawdown appeared to coincide in timing with a phone call that Russian President Vladimir Putin unexpectedly made to US President Barack Obama about the crisis on Friday evening.
"In recent days, the Russian forces have been gradually withdrawing from the border," the Ukrainian defense ministry's general staff spokesman Oleksiy Dmytrashkivskiy told AFP in a telephone interview.
"This could be linked to a regular rotation of soldiers," said Dmytrashkivskiy. "Or it may be linked to the Russian-US negotiations."
A ministry official said that Kiev had not been formally notified of the drawdown by Moscow and therefore could not tell why the soldiers were being moved.
Kerry's hastily arranged meeting with Lavrov concluded without any evident shift in either sides' stance.
Lavrov reiterated Moscow's demand that Ukraine be turned into a federation in which the regions enjoyed broader autonomy from Kiev and had the right to declare Russian as a second official language.
Washington is not against the idea of constitutional changes but remains wary that the Kremlin wants to use decentralization as a tool for vetoing Kiev's decisions in southeastern regions whose Russian speakers Putin has vowed to "protect".
Kerry insisted after the talks that he did not discuss the federation idea with Lavrov in detail because Ukrainian officials had not been invited to Paris.
"We will not accept a path forward where the legitimate government of Ukraine is not at the table. This principle is clear. No decisions about Ukraine without Ukraine," Kerry told reporters.
Ukraine's new leaders have been willing to give more authority to local legislatures and allow the regions to elect their own governors - administrators who are appointed by Kiev today.
But they refuse to give regions the power to set up their own economic and social policies that could theoretically boost their reliance on Russia.