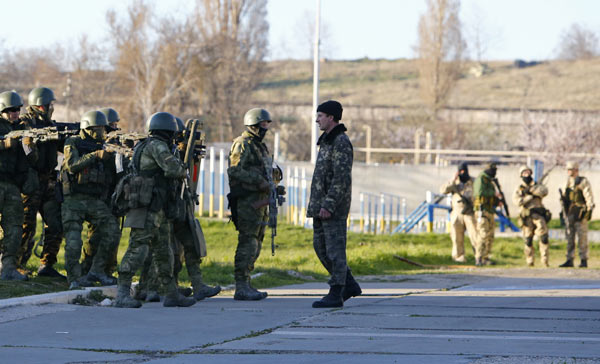 A Ukrainian serviceman (R, front) talks to armed men, believed to be Russian servicemen, who stand guard at a military airbase, in the Crimean town of Belbek near Sevastopol March 22, 2014. [Photo/Agencies]
BELBEK AIRBASE, Crimea - Russian troops used armoured vehicles, automatic gunfire and stun grenades on Saturday to seize a Ukrainian airbase in Crimea a day after President Vladimir Putin signed laws completing Russia's annexation of the Black Sea peninsula.
Ukrainian forces also abandoned a naval base after attacks by pro-Russian protesters, and had to surrender two flagship vessels to Russian forces.
The facilities at Belbek and Novofedorovka had been among the last still under Ukrainian control after Moscow's armed takeover and subsequent annexation of Crimea, which has a majority ethnic Russian population and harbours one of Russia's biggest naval bases at Sevastopol.
The United States and the European Union have targeted some of Putin's closest long-time political and business allies with personal sanctions.
At the Belbek airbase, a Reuters reporter said armoured vehicles had smashed through the walls of a compound and that he had heard bursts of gunfire and grenades, making the takeover one of the more dramatic of Russia's largely bloodless occupation of Crimea.
Russian forces had already seized Belbek's airstrip and warplanes at the start of the crisis. The compound seized on Saturday contained barracks, arms depots and a command building.
Colonel Yuliy Mamchur, the base commander, said a Ukrainian serviceman had been injured and that he himself he was being taken away by the Russians for talks at an unspecified location. He said the Ukrainians were placing their weapons in storage in the base.