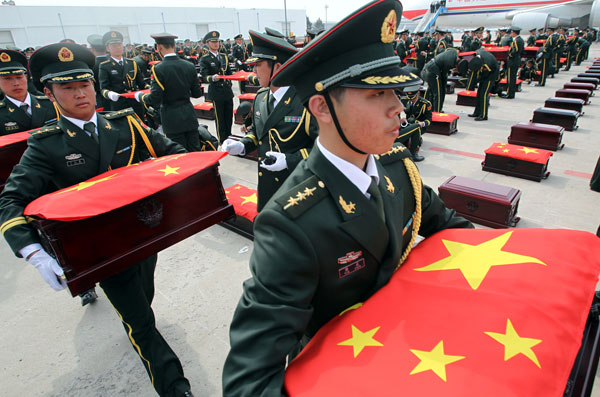 Soldiers of the Chinese People's Liberation Army carry coffins containing the remains of 437 soldiers of the Chinese People's Volunteers who were killed in the Korean War (1950-53). The remains arrived at Shenyang Taoxian International Airport on Friday. Zhang Wei / China Daily
After resting in a foreign country for more than 60 years, the exhumed remains of the former Chinese People's Volunteers who died during the Korean War (1950-53) in the Republic of Korea finally arrived home on Friday.
It is the first such repatriation after ROK President Park Geun-hye, during her China visit in June, offered to send back the remains to mark the 60th anniversary of the signing of the armistice. Analysts interpreted the move as a symbolic gesture of friendship from Seoul.
The Chinese government sent a special plane to take back the remains, which were transferred by the ROK side to the Chinese side at Incheon International Airport in the ROK at 7:30 am on Friday.
When the plane entered Chinese territory, it was accompanied by two Chinese fighters until it landed at Shenyang Taoxian International Airport.
Placed in brown wood coffins covered by the Chinese national flag, the remains were welcomed by Chinese officials.
"We have never forgotten the CPV martyrs who died in the Korean War. ... We hold this grand welcoming ceremony because we hope to express our vigorous appreciation and highest respect to them," Vice-Premier Zhang Gaoli said at the airport.
The CPV entered the war, known in China as the War to Resist US Aggression and Aid Korea, to help the Democratic People's Republic of Korea resist US-led UN troops in 1950.
But it wasn't until 2010 that the death toll of CPV troops was confirmed at 183,108. The details cover both sides of a memorial wall at the Korean War Memorial Museum in Dandong.
The sacrifices of these soldiers "safeguarded the safety and dignity of the new China and maintained peace in Asia and in the whole world", Zhang said.