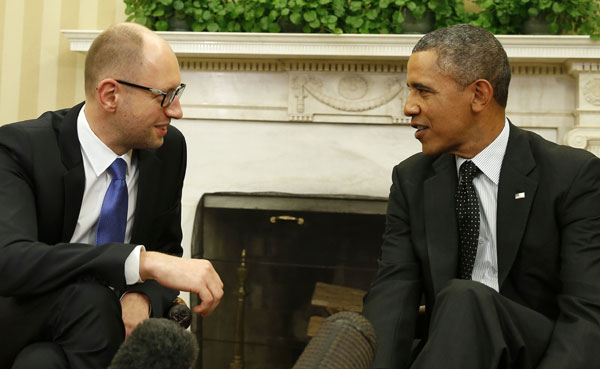 US President Barack Obama listens to Ukraine Prime Minister Arseniy Yatsenyuk (L) in the Oval Office of the White House in Washington, March 12, 2014.[Photo/Agencies]
WASHINGTON -- US President Barack Obama on Wednesday rejected the legitimacy of a referendum on the future of Ukraine's Crimea region and expressed strong support for the new government in Kiev.
"We reject a referendum patched together in a few weeks with Russian military personnel taking over Crimea," Obama told reporters after meeting with Ukrainian Prime Minister Arseniy Yatsenyuk at the White House.
Obama said he hoped diplomatic efforts over the next several days can cause a "rethinking" of plans for the referendum, which is slated for Sunday. US Secretary of State John Kerry will travel to London to meet with Russian Foreign Minister Sergei Lavrov on Friday. The top US diplomat told lawmakers Wednesday morning that the US will offer "certain choices" to Russia in hopes of finding a way forward.
Last Thursday, the Crimean parliament voted to join Russia and for a referendum on March 16 on Crimea's future. On Tuesday, it adopted a declaration of independence, which specifies that Crimea will become independent if its residents vote in favor of splitting from Kiev to join Moscow in Sunday's referendum.
Obama said the idea that Ukraine is forced to choose between good relations with the West or economic ties with Russia is a " zero sum formulation" that doesn't make any sense in the 21st century with a highly integrated global economy.
"I actually think that in the end it's not in the interests of Russia either," he added.
Obama also warned Russia that if it continues on the current path, the US, together with the international community, will " be forced to apply a cost to Russia's violations of international law and its encroachments on Ukraine."
Russia has accused the U.S. of applying "double standards" to its assertions about the developments in Ukraine, saying it has no right to "moralize about compliance with international law and respect for the sovereignty of other countries."
Meanwhile, Russia said it would respect any choice made by the Crimean people in the upcoming referendum on the autonomous republic's future status.
In the Oval Office, Obama told Yatsenyuk that the he had seen " the courage of the Ukrainian people in standing up on behalf of democracy" and the desire to be able to determine their own destiny.
"We have been very firm in saying that we will stand with Ukraine and the Ukrainian people in ensuring that territorial integrity and sovereignty is maintained," Obama said.
Obama also praised Yatsenyuk for showing "tremendous courage" and upholding the principles of nonviolence throughout the political turmoil over the past several months.
Yatsenyuk urged Russia to "pull back its military and start a dialogue with no guns and no tanks" and said that Ukraine is "ready and open" for talks with Russia.
The Prime Minister said he would sign an integration agreement with the European Union within 10 days. The decision last year by ousted Ukrainian president Viktor Yanukovych to refuse to sign the accord ignited a storm of protests that have escalated to the current political crisis in the country.
Ukraine will be a "partner" to the Western world but also have a relationship with Russia as "a partner and good friend," Yatsenyuk said.
During Yatsenyuk's visit to Washington on Wednesday, the US and Ukraine also discussed specific steps Washington is taking to support Ukraine "at this critical time", the State Department said.
The assistance includes a 1-billion-dollar loan guarantee the Obama administration is working with Congress to provide, and the package of technical and other assistance the US is preparing in order to meet Ukraine's priority needs.