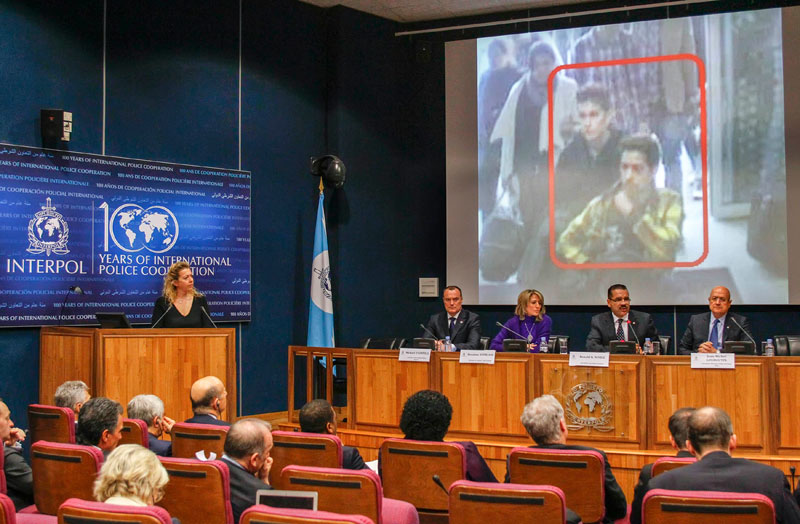 Interpol Secretary General Ronald Noble (2ndR) speaks during a news conference at the Interpol headquarters in Lyon, March 11, 2014. The head of international police agency Interpol said on Tuesday he did not believe the disappearance of a Malaysia Airlines plane at the weekend was a terrorist incident, suggesting two men who boarded using stolen passports may have been smuggled by traffickers. The plane carrying 239 people on board has now been missing for four days, with a search involving crews from 10 nations widening on Tuesday to a larger swathe of the Gulf of Thailand and South China Sea. The screen shows two Iranian passport holders, Pouri Nourmohammadi and Delavar Seyed Mohammadreza. Noble said two Iranian passport holders aged 18 and 29, who started their trip in Doha, had swapped their passports in Kuala Lumpur and used stolen Italian and Austrian passports to board the now missing Malaysian airliner. [Photo/Agencies]
LYON, France - Interpol has released an image of two Iranians who were
traveling with stolen passports on a missing Malaysia Airlines jetliner.
The image showed the two Iranian men boarding a plane at the same time. Interpol secretary general Ronald K. Noble said Tuesday the two men traveled to Malaysia on their Iranian passports, then apparently switched to the stolen Austrian and Italian documents.
Noble said the recent information about the men made terrorism a less likely cause of the plane's disappearance, but that did not allay concerns about the ease of travel involving stolen passports.
He said the passport birthdates indicated one was 19 and the other 29. The 19-year-old, whose name differed slightly from that given by Malaysian authorities, is believed to have planned to seek asylum in Germany.