KIEV - Ousted Ukrainian President Viktor Yanukovich on Thursday said he considers himself the "legitimate head" of the state, local media reported.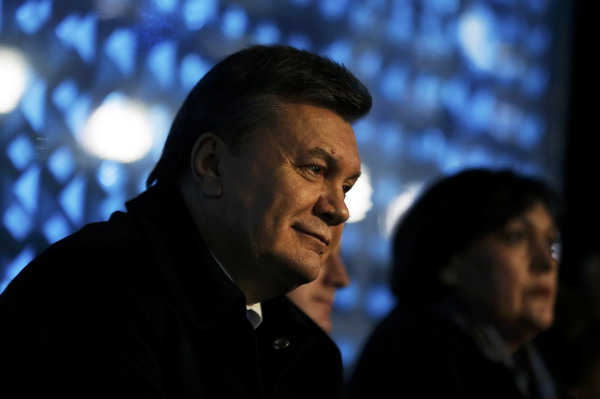 Ukrainian President Viktor Yanukovich watches the opening ceremony of the 2014 Winter Olympics in Sochi, February 7, 2014. [Photo/Agencies]
"I still consider myself as the legitimate head of the Ukrainian state, elected on the basis of the free will of Ukrainian citizens," Yanukovich said in a statement issued by news agency Interfax.
Yanukovich said decisions made by the Ukrainian parliament during recent days were unlawful, as the bills were approved in the absence of many lawmakers, who "were subjected to physical violence and forced to leave the territory of Ukraine illegally."
Opposition leaders failed to fulfill a peace deal with the Ukrainian authorities to end the crisis, Yanukovich said, adding that he would "fight to the end" for the implementation of compromise agreements.
After violent clashes between Ukrainian protesters and riot police, which left over 80 people dead, Yanukovich signed a peace deal with three main opposition leaders on holding an early election by December and reducing presidential powers in a bid resolve the country's bloody standoff .
On Friday, shortly after the signing of the agreement, Yanukovich left the capital. The following day, Ukrainian parliament passed a resolution to dismiss Yanukovich from his post and set an early election for May 25.