Ukraine to form government as West seeks lasting solution
Ukraine was scheduled to unveil a new prime minister and Cabinet on Thursday as top Western envoys rushed to Kiev to try to find a lasting solution to the crisis rocking the country.
Ukraine has appealed to the West for $35 billion in aid to avoid default as the nation tilts away from Russia, following the weekend ouster of president Viktor Yanukovych after street violence in Kiev left almost 100 dead.
Yanukovych has since been slapped with an arrest warrant for "mass murder", capping more than three months of protests against his rule sparked by his November decision to spurn a pact with the European Union in favor of closer ties with Russia.
The Ukrainian parliament, led by Speaker Oleksandr Turchynov, on Monday issued a travel ban against those suspected of killing protesters during the massive protests.
At a session presided over by Turchynov, parliament asked the Ukrainian State Border Service to stop those who are suspected of killing protesters from leaving the country, the Interfax News Agency reported.
The session also dismissed several officials from their posts and made some new appointments to key governmental positions, including the national bank director and the general prosecutor.

The whereabouts of Yanukovych remains unknown after he reportedly left the capital late on Friday to take part in a regional meeting in the city of Kharkov near the Russian border.
EU foreign policy chief Catherine Ashton arrived in Kiev on Monday as the Ukrainian capital slowly returned to normal, with shops and restaurants in the city center reopening.
She met interim leader Turchynov, who has warned that Kiev will have no alternative but to default on $13 billion in foreign obligations due this year should the West fail to come to the aid of the economically teetering country.
Adding to the diplomatic effort, Washington was sending US Deputy Secretary of State William Burns to Kiev on Tuesday. British Foreign Secretary William Hague is due to visit Ukraine soon.
The US has stopped short of endorsing Ukraine's interim leader and called for a technocratic government to promote early elections.
Turchynov has vowed to draw up a "government of the people" and warned Russia that he expects the Kremlin to respect Ukraine's pivot to the West.
On Tuesday, the electoral commission said the campaign for presidential polls set for May 25 had officially kicked off, though who exactly will stand for the top post remains to be seen.
Names commonly put forward include protest leader Arseniy Yatsenyuk, a pro-EU former foreign and economy minister; Yulia Tymoshenko, the recently freed opposition leader and former prime minister; Petro Poroshenko, a billionaire chocolate baron; and Vitali Klitschko, a world heavyweight boxing champion turned politician.
The political and financial crises rocking Ukraine have seen the nation of 46 million face the dire threat of splintering between its pro-Western, Ukrainian-speaking agrarian west and the Russian-speaking industrialized south and east.
The Russian Foreign Ministry on Monday strongly criticized the new Western-leaning leadership in Ukraine, saying it was restricting "the humanitarian rights of Russians".
Russian Prime Minister Dmitry Medvedev also issued a firm response by condemning the "armed mutiny" in Ukraine.
"The legitimacy of a whole number of organs of power that function there raises great doubts," he was quoted as saying by Russian news agencies.
"Some of our foreign, Western partners think otherwise," Medvedev said. "This is some kind of (an) aberration."
The country also faces a devastating default, and finance chiefs from Europe, the US and the International Monetary Fund have been discussing how to help restructure Ukraine's finance.
AFP-Xinhua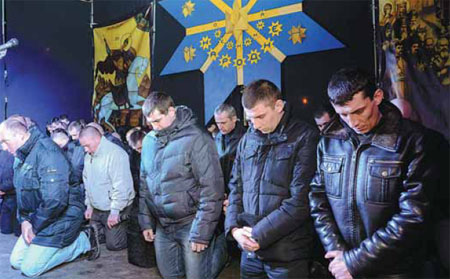 Riot police in Lviv apologize to local residents for taking part in an operation against anti-government protesters in Kiev, Ukraine. The police made their apology at a rally in Lviv on Monday but insisted they did not beat any protesters. Roman Baluk / Reuters
(China Daily 02/26/2014 page10)
Today's Top News
Editor's picks
Most Viewed