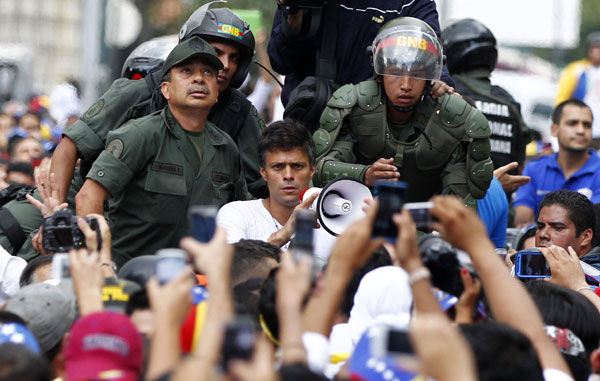 Opposition leader Leopoldo Lopez (C) speaks to supporters blocking a street after he handed himself over in Caracas, Feb 18, 2014. [Photo/Agencis]
CARACAS - Venezuelan opposition leader Leopoldo Lopez, wanted by authorities on charges of inciting violence, handed himself over to police on Tuesday amid waves of pro-and anti-government rallies in Caracas.
Lopez, who had been in hiding since an arrest warrant was issued following violent opposition clashes last week that left three dead, showed up at a rally to address anti-government protesters before surrendering to security forces.
Dressed in white, like his supporters, Lopez spoke to the crowd through a megaphone, saying he hoped his arrest will serve to fuel the opposition movement. "If my arrest wakes people up ... it will have been worth it," said the leader of the opposition party Voluntad Popular (Will of the People).
Both the right-wing opposition and the socialist government led by President Nicolas Maduro had called for peace marches Tuesday, in the wake of the violent protests.
The marches were taking place peacefully, said Minister of the Interior and Justice Miguel Rodriguez Torres in a televised broadcast.
"We have no reports of casualties, (only) of tranquillity and peace in the city," he said.
"On the one hand, we have a gathering of millions of people moving from Plaza Venezuela to (the presidential palace of) Miraflores in support of President Nicolas Maduro, (while) at Plaza Brion de Chacaito we have a group of people ... who are protesting," he said.