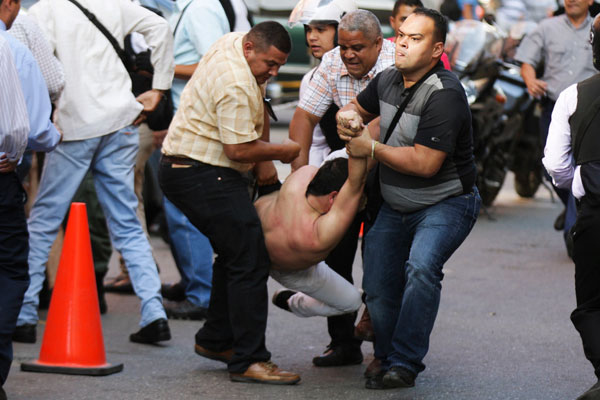 A demonstrator is detained by plainclothes policemen during an anti-government protest in Caracas Feb 12, 2014. One person was killed during standoffs at the end of an anti-government rally in Caracas on Wednesday, witnesses said, escalating the worst bout of unrest in Venezuela since protests against President Nicolas Maduro's April 2013 election. [Photo/Agencies]
CARACAS - At least two people were shot dead on Wednesday during anti-government protests in Caracas, escalating the worst bout of unrest in Venezuela since turmoil after President Nicolas Maduro's election last year.
The violence was a crescendo to weeks of sporadic demonstrations in the provinces led by opposition hardliners who denounce Maduro for failing to control inflation, crime and product shortages and vow to push him from office.
The government says the opposition is sowing violence to stage a coup similar to the one a decade ago that briefly ousted late socialist leader Hugo Chavez, though there are few signs that the current melees could topple Maduro.
The country's top prosecutor confirmed the death of a student and a pro-government community leader amid chaotic scenes as marches by opposition and government sympathizers ended just a few blocks apart in the city center.
Maduro said another student suffered serious brain damage and was in critical condition after being shot in the head.
"This violent group had failed until now in their attempts to fill Venezuela with death and blood," Maduro said in a speech outside Caracas to commemorate an independence-era battle.
"Today we lament the death of two young Venezuelans."
Reuters reporters on the scene heard gunshots and saw one man carried away dead with blood gushing from his head.
Twenty-three people were injured, 25 arrested, four police vehicles burnt, and some government offices vandalized in violence throughout the day, officials said.
Social networks quickly fell into a familiar pattern of recriminations, with both sides blaming the other based on little clear information about what had happened.
Opposition activists said armed government supporters belonging to hardline groups known as "colectivos" had fired on the peaceful march. Government officials pinned the deaths on "fascists" who they said had planned violence from the start.
Related Stories: