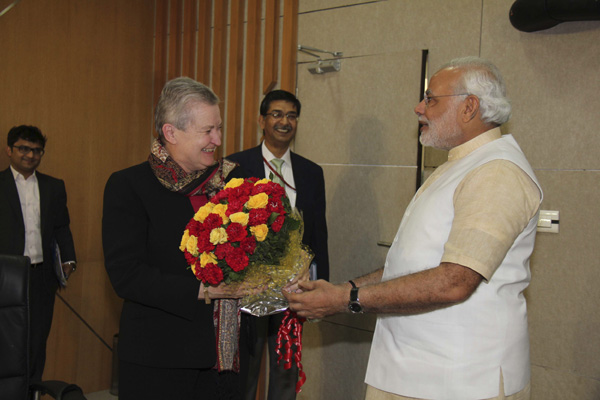 US ambassador to India Nancy Powell (2nd L) receives a bouquet from Hindu nationalist Narendra Modi (R), prime ministerial candidate for India's main opposition Bharatiya Janata Party (BJP) and Gujarat's chief minister, during their meeting in Gandhinagar in the western Indian state of Gujarat February 13, 2014. [Photo/Agencies]
GANDHINAGAR, India - The US ambassador to India met the Hindu nationalist leader who is the front-runner to be the country's next prime minister on Thursday, a signal that Washington was ending a long boycott of him over sectarian violence in 2002.
Ambassador Nancy Powell met Narendra Modi in Gandhinagar, the capital of Gujarat state, where he is chief minister. Television footage showed her shaking Modi's hand and smiling, while he gave her a bunch of red and yellow flowers.
The footage, released by the Gujarat government, also showed the two sitting in a meeting room at his residence accompanied by  officials. There was no immediate word on what was discussed.
It was the highest-profile encounter between US officials and Modi since the State Department revoked his visa in 2005 over riots in Gujarat three years previously. The violence erupted after 59 people, mostly Hindu pilgrims, were killed in a fire on a train. Hindu crowds subsequently killed at least 1,000 people, most of them Muslims.
Modi has always denied accusations that he allowed or even encouraged attacks on Muslims and a Supreme Court inquiry found no evidence to prosecute him.
It was not immediately known if the question of Modi's visa status came up at the meeting with Powell.
Modi's Bharatiya Janata Party, or BJP, is considered the favourite to form a government after a general election due by May. Most analysts do not expect the United States to uphold the visa ban if he does become Indian leader.
Related readings
US, India to get ties back on track