India cricket mogul Modi suspended in growing IPL scandal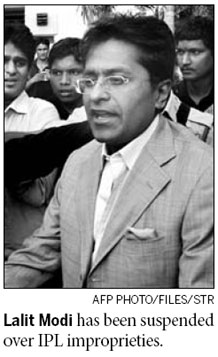 NEW DELHI - The head of India's $4 billion cricket premier league was removed from his post on Monday after a scandal that has ensnared top politicians and strained the ruling coalition.
Tax authorities are probing the three-year-old Indian Premier League (IPL), the game's most lucrative tournament, after a junior government minister resigned following allegations of improper influence.
The Board of Control for Cricket in India (BCCI) axed IPL chief Lalit Modi immediately after the final match of the 2010 series, past midnight, saying he had "brought a bad name to the administration of cricket and the game itself".

Today's Top News
Editor's picks
Most Viewed