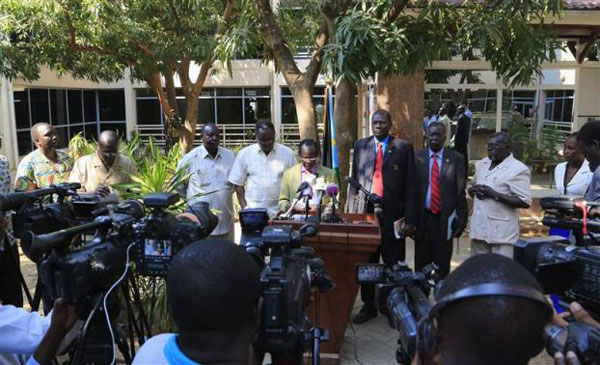 South Sudan Vice President James Igga (C) announces to the media the recapture of Malakal town by government forces from the rebels, in the capital Juba December 28, 2013. [Photo/Agencies]
South Sudan troops will attack the main stronghold of rebel forces loyal to former vice president Riek Machar if the government's offer of a ceasefire is rejected, a senior minister said on Saturday.
More than 1,000 people have been killed in two weeks of ethnic clashes that threaten to turn into a full-blown civil war in the world's youngest country. Refugees sheltering in UN camps spoke of atrocities committed by both main ethnic groups.
President Salva Kiir's government offered an olive branch to the rebels on Friday, proposing a ceasefire and saying it would release eight of 11 senior politicians, widely seen to be Machar allies, arrested over an alleged coup plot against Kiir.
But Kiir's former deputy Machar reacted coolly to the truce offer, telling the BBC that any ceasefire needed to be credible and properly enforced for him to take it seriously.
"Until mechanisms for monitoring are established, when one says there is a unilateral ceasefire, there is no way the other person would be confident this is a commitment," Machar said.
Information Minister Michael Makuei said government troops on Saturday morning pushed rebels out of the town of Mayom in Unity State and were ready to advance the 90 km (55 miles) to Bentiu, the last state capital held by Machar's forces.
"We will flush (Machar) out of Bentiu if he doesn't accept the cessation of hostilities," Makuei told Reuters by phone from the capital Juba.
Fighting between rival groups of soldiers erupted in Juba on December 15, then triggered clashes in half of South Sudan's 10 states - often along ethnic lines, between Machar's group, the Nuer, and Kiir's Dinka.
"Forced to eat corpse"
Inside sprawling United Nations camps acting as a safe haven for more than 63,000 civilians, many traumatised Dinka and Nuer say ethnic bloodletting has left them paralysed with fear.
"They came with their guns and spoke to us in the Dinka language," said Gattuor Gatkek, a Nuer man seeking refuge at the UN camp in Juba's Tonping area where other civilians also have told Reuters about summary executions, rapes and mutilations.
"I didn't speak the language, so they pulled me aside and forced me to eat the flesh of a corpse that lay next to me."
Dinkas say they have also been victims of ethnic-based atrocities. In Jonglei state capital Bor they talk of mass killings by marauding Nuer militias, while a UN human rights group said earlier this week it had found a mass grave believed to contain bodies of Dinka soldiers in rebel-held Bentiu.
The United States, other Western powers and regional governments, fearful of a civil war in a fragile region with notoriously porous borders, have tried to mediate.
Ugandan President Yoweri Museveni is due to arrive in Juba on Sunday for talks with Kiir, a South Sudanese official said.
Alex Rondos, the European Union's Special Representative to the Horn of Africa, said South Sudan's leaders must "rise to their responsibilities" and meet for talks without conditions.
"Here is a young country that is only two years independent and the blood is flowing," Rondos told Reuters in Nairobi.
"Both sides need to stop fiddling around. There is the danger of allowing the situation to remain protracted over petty political haggling at a time when the country is aflame, when passions have been aroused so lethally, which is nothing more than an act of utter irresponsibility in my view."
South Sudan, a nation the size of France, has the third-largest oil reserves in sub-Saharan Africa after Angola and Nigeria, according to BP, but remains one of the poorest countries on the continent.
Paying for peace
At one point rebels loyal to Machar, who was sacked from his job by Kiir in July, controlled Jonglei state capital Bor and occupied half of Malakal, the capital of the major oil producing Upper Nile state. They were pushed out of both towns this week.
Makuei said the ceasefire offer remained in place and that the government had done all it could to bring about peace talks to end the 14-day-old conflict, adding Machar had done nothing.
Inside the UN camps, South Sudan's mainly Christian population was praying for a swift end to the fighting.
"I want all this to end peacefully. We have no other choice," said Biliu, a 45-year-old man who said he wanted Kiir to urgently reconcile the country's two largest ethnic groups.