South Sudan army announces victory in Malakal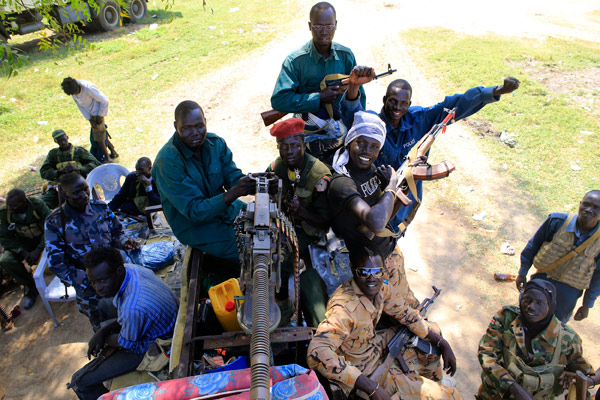 South Sudan army soldiers hold their weapons as they celebrate in Bor, 180km (108 miles) northwest from capital Juba December 25, 2013. [Photo/Agencies]
KHARTOUM - South Sudanese army on Friday announced the end of fighting in Malakal, the capital city of Upper Nile State, with a great victory against the forces loyal to former South Sudanese vice-president Riek Machar after four days of violent clashes.
"The fighting ended at 12:00 pm local time (GMT 0900)," Philip Aguer, South Sudanese army's spokesman, told Xinhua by phone.
"The Sudan People's Liberation Army (SPLA) has achieved a great victory over the forces loyal to Machar. We are a hundred percent in control of Malakal town," he noted.
However, Aguer declined to give the death toll of the clashes which continued for four days between the government troops and the forces loyal to Machar.
Violent clashes erupted in South Sudan earlier this month between two military factions, one descending from the Dinka tribe to which South Sudanese President Salva Kiir Mayardit belongs, and the other descending from the Nuer tribe to which sacked former vice-president Machar belongs.
Machar was sacked from his post a few months ago and has been accused of plotting against the government since the eruption of the clashes within the military.
Machar's forces had attempted to seize Malakal city which produces most of South Sudan's oil.  
South Sudan has been witnessing violent armed clashes since the mid of current December, according to UN reports, in which thousands have been killed.
Regional countries and organizations have been exerting efforts to urge the conflicting parties in South Sudan to reach a peaceful settlement and facilitate the delivery of humanitarian assistance to the conflict-affected people.