South Sudan president demands immediate end to atrocities
South Sudanese President Salva Kiir has called for an end to wanton killings and tribal-based atrocities.
His appeal on Wednesday came as government troops clashed with rebels loyal to his former deputy in an oil-producing region of the country.
Western powers fear the violence could get out of control and lead to a civil war split along ethnic lines in the world's newest state. On Tuesday, the United Nations Security Council agreed to almost double the number of peacekeepers there.
"Innocent people have been wantonly killed. People are targeting others because of their tribal affiliation. This is unacceptable," Kiir said, according to a government Twitter account.
The atrocities have to cease immediately, Kiir said.
The violence erupted in the capital Juba on Dec 15 and has spread quickly, dividing the landlocked country of 10.8 million along Nuer and Dinka ethnic lines.
Western powers and East African states, keen to prevent more chaos in a fragile region, have tried to mediate between Kiir, a Dinka, and rebel leader Riek Machar, a Nuer, who was vice-president until Kiir fired him in July.
European Union foreign policy chief Catherine Ashton is sending an envoy to the country, the European Commission said on Wednesday.
Ethiopian Prime Minister Hailemariam Desalegn and Kenyan President Uhuru Kenyatta would arrive in Juba on Thursday to help mediate.
Despite African Union calls for a Christmas Day cease-fire, rebels and government troops clashed on Wednesday in Malakal, capital of the major oil state of Upper Nile. On Tuesday, a UN human rights group found a grave containing 75 bodies in a rebel-held town.
Kiir and Machar have both said their dispute is political, not tribal. But many of the 45,000 civilians seeking refuge inside UN bases across the country say they have been targeted based on their ethnicity.
"It's definitely not a good Christmas here in the abyss of war," said Chan Awol, a 30-year-old civil servant whose family has scattered across South Sudan since the fighting started.
"Nobody wants to go back to the days when there were no schools, no hospitals and no roads. Above all, no South Sudanese wants to be a refugee again."
Reuters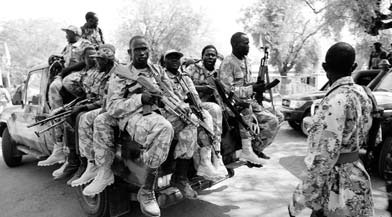 Soldiers in South Sudan travel the streets in the flashpoint town of Bor, northwest of the capital Juba, on Wednesday. Army troops have retaken Bor a week after it fell to rebels. James Akena / Reuters
(China Daily 12/27/2013 page11)
Today's Top News
Editor's picks
Most Viewed