WASHINGTON - One day after a gunman shot and killed 26 people, including 20 children, at Sandy Hook Elementary School in Newtown, Connecticut of the United States, many questions remain unknown as to the motive behind the massacre.
US authorities on Saturday released names of the victims, saying all six adults killed at the school were women. Of the 20 children who were shot to death, eight were boys and 12 were girls. All the children were ages 6 or 7.
Connecticut Chief Medical Examiner Wayne Carver told reporters at a press conference on Saturday "I believe they're all first graders."
He also said "Everybody was hit more than once" at close range by a rifle and all died of "gunshot wounds."
"All of wounds that I know of were caused by the long weapon," Carver said, referring to a rifle found at the scene. Police found at least three weapons at the scene, one rifle and two pistols. All the weapons were legally possessed by the gunman's mother, according to reports.
Carver said the deaths are classified as "homicides", describing the scene as "the worst" he has seen in his career.
The medical examiner also confirmed the alleged shooter, Adam Lanza, killed his mother, Nancy Lanza, who was first reported to have been a teacher at the school, but later proved to have no such connection to Sandy Hook Elementary.
Adam Lanza, 20, was believed to have forced his way into the school on Friday morning after he killed his mother, and started a shooting rampage in two classrooms around 9 am, killing 20 children and six adults before killing himself. His mother's body was found at her home not far from the school.
Among the six adults killed were principal Dawn Hochsprung, 47, who was remembered as "energetic, positive and passionate," and psychologist Mary Sherlach.
The shooter's brother Ryan Lanya was in police custody for questioning, however, he was not believed to be involved in the shooting spree.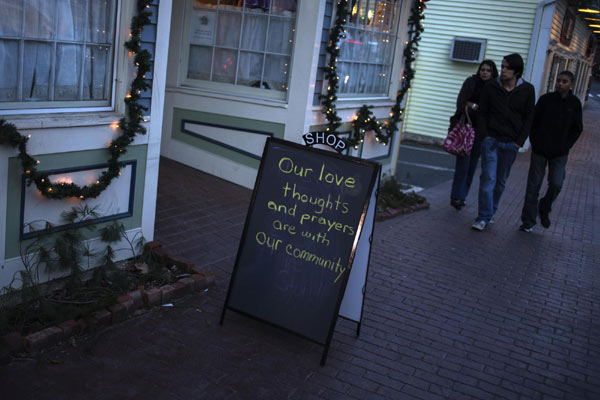 Residents approach a sign placed outside a shop in Sandy Hook village a day after a shooting at Sandy Hook Elementary School in Newtown, Connecticut, on Dec 15, 2012. [Photo/Agencies]
The hair-raising mass killing plunged Newtown with a population of 27,000 into shock, anger and grief, while police and news media struggled to piece together information related to the incident and figured out how and why this tragedy happened.
Supporters of gun control legislation hold candles on Friday during a rally to pay respect for the shooting victims in front of the White House in Washington.
President Barack Obama said Friday the United States needs to take "meaningful action," regardless of politics, to prevent more tragedies, noting the country has seen too many shootings throughout the years. But he did not say what kind of actions.
Tearful Obama said the nation was "heartbroken" over the deaths of so many innocent children and described the shooting as "senseless acts of violence."
He ordered US flags on the White House, official building and military facilities to fly half-mast to honor the victims of the shooting incident.
The shooting incident happened three days following the killing of two people by a gunman in a shopping mall in the US state of Oregon, and two weeks before Christmas. The death toll is the second highest in a school shooting in US history after a gunman killed 32 people at Virginia Tech in 2007.
Connecticut Governor Dannel Malloy said on Friday following the tragedy "evil" had descended upon the small community of Newtown, which is now on a difficult healing journey.
People recreate the Christmas Nativity Scene outside Saint Rose of Lima Roman Catholic Church a day after a shooting at Sandy Hook Elementary School in Newtown, Connecticut, Dec 15, 2012. [Photo/Agencies]