WASHINGTON - The mass killing on Friday at a Connecticut school put renewed pressure on US President Barack Obama and other Democrats to reverse their years of caution about gun control laws and address the easy availability of firearms.
The scenes from Sandy Hook Elementary - of children running from a school where a lone gunman killed at least 20 children and seven adults - were certain to stir public opinion, supporters of gun control said.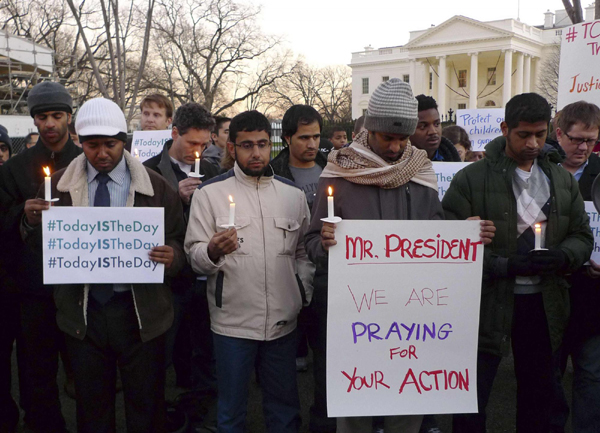 Supporters of gun control legislation hold candles during a rally in front of the White House in Washington, after a gunman killed 27 people, including 20 children, in Newtown, Connecticut Dec 14, 2012. [Photo/Agencies]
Just an hour after Obama tearfully said on national television that the country needs "meaningful action to prevent more tragedies," about 200 people rallied outside the White House on a cold evening in favor of gun restrictions.
Their hopes were buoyed by Obama's re-election last month, a development that could free the president - a longtime advocate for gun control - to approach the subject without fear of political consequences in his second four-year term.
However, Obama still faces a Republican-led House of Representatives that could block such reforms.
New York City Mayor Michael Bloomberg, who runs a coalition of mayors on gun policy, said Obama should not be deterred and should send legislation to Congress.
"We have heard all the rhetoric before. What we have not seen is leadership - not from the White House and not from Congress. That must end today," Bloomberg said in a statement.
US lawmakers have not approved a major new gun law since 1994, and they let a ban on certain semiautomatic rifles known as assault weapons expire in 2004.
FEAR OF NRA
Faced with intense lobbying by the National Rifle Association and other gun groups, and fearful of a backlash from gun-owning voters, most Democrats have stopped trying to pass new laws.
Their caution has continued despite high-profile incidents such as the January 2011 near-fatal shooting of Democratic Representative Gabrielle Giffords in Tucson, Arizona, and the July 2012 killing of 12 at a movie theater in Aurora, Colorado.
But, supporters of gun control said, two factors may shake Democrats out of their passive stance: the increasing frequency of mass killings, and the defenselessness of the young children killed at the school in Newtown, Connecticut.
Some gun rights supporters said after the Aurora massacre that the shooter might have been stopped if more theater-goers had been armed. But this argument is more difficult to make in the latest incident.
"You can't have an elementary school teacher have a gun in her purse. You just can't do that," said Josh Horwitz, executive director of the Coalition to Stop Gun Violence.