UNITED NATIONS - UN Secretary-General Ban Ki-moon on Friday voiced his "deepest condolences" over the victims of a school shooting in the US state of Connecticut which killed 20 children and eight adults.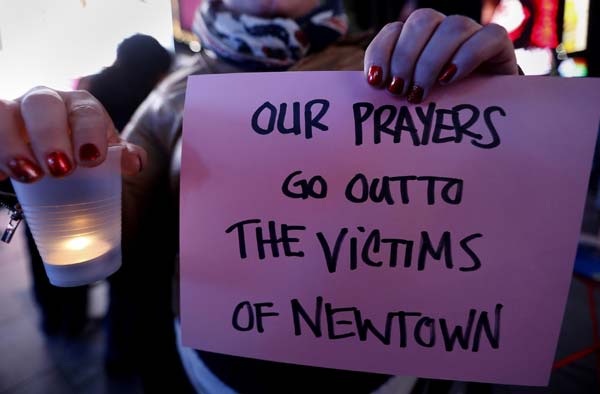 People take part in a candlelight vigil in Times Square, for the victims of the Sandy Hook School shooting, in New York, Dec 14, 2012. [Photo/Agencies]
In a letter to Connecticut Governor Dan Malloy, Ban called the Sandy Hook Elementary School rampage "shocking murders," spokesman Martin Nesirky told reporters here.
"The secretary-general said that the targeting of children is heinous and unthinkable, and extended his thoughts and prayers to the families of the victims and all others traumatized by this horrendous crime," said the spokesman.
Police in Connecticut said Friday that 18 children died on the scene in the elementary school, two more died later in the hospital, and 8 adults were also dead.
According to reports, the gunman shot his mother, who worked at the school. Police said the gunman and the "individual who lived with him" were both dead.
The incident is the second deadliest school shooting in US history, only exceeded by the Virginia Tech Massacre in April 2007, which left 33 people dead.