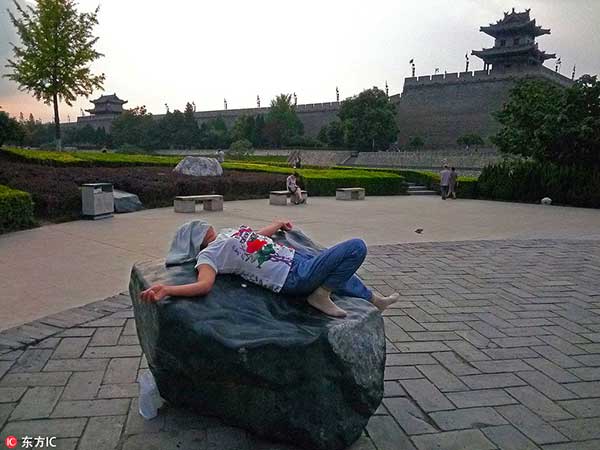 A woman lies on a stone to warm her body, an activity some claim can treat illnesses, at a park in Xi'an city, Northwest China's Shaanxi province, August 15, 2016. [Photo/IC]
Leaning and resting on hot stones has become a popular treatment to cure illnesses in Xi'an, the capital of Shaanxi province.
Almost every late afternoon and early evening from June, a group of women, all over the age of 50, come to the City Wall Park and lie down on their back or stomach on the four stones that have turned hot in the afternoon heat.
They believe that this kind of treatment can cure cold-related diseases.
Sometimes they have to wait in line as there is a long queue and just four rocks.
Lu Xiuying, a 58-year-old woman who was leaning on her back against one of the hot rocks in the early evening on Tuesday, said that she comes for the treatment with her husband and 80-year-old mother.
"My husband finds the rock too hot to bear but my mother and I feel comfortable when we lean against them. We think this treatment is good to treat synovitis and periarthritis of shoulder my mother and I suffer," Lu said.
But a 70-year-old woman and her husband who were nearby playing with their grandson disagreed.
"I lied down on my stomach on the hot rock three days ago and it burnt my skin. I wanted to treat my cold, but I do not think it helped," the old woman said.
Lu's husband also thought the rocks were too hot and harmed people, and almost no men believed in the rock treatment.
Zhang Ruoping, doctor with Xi'an Hospital of Traditional Chinese Medicine, said that resting on hot rocks was similar to the hot compression therapy in traditional Chinese medicine, which worked through the warm stimulation and drug synergistic effect to change the body's pathological state.
"But patients should consult doctors for their diseases, and any kind of treatment should have sufficient scientific basis, otherwise it can cause skin burn or heat stroke or other problems," the doctor added.