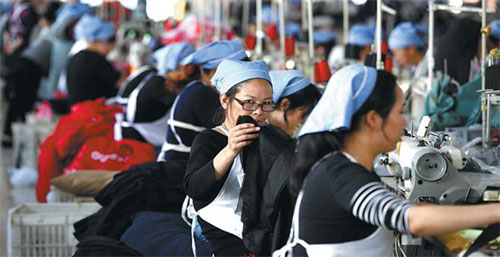 Women employees work at a garment factory in Huaibei, Anhui province.  Xie Zhengyi/for China Daily
Ningxia Hui autonomous region in northwest China will allow female workers to require paid menstrual leave, reported nxnews.net on Tuesday.
The region enhances the protection of female workers during menstruation, pregnancy, giving birth, lactation and menopause.
The regulation in Ningxia follows the example of other provinces like Anhui, Hubei and Hainan.
It said female workers may take paid menstrual leave for one or two days if they can't carry on their work under heavy menstruation or menstrual pain.
Female workers can also apply for transfer or request for lighter work with a certificate of menopausal syndrome from a legal medical institute or hospital.
The regulation takes the benefit of female workers as a key index of a company's credit.
It explicitly requires that companies not decrease female workers' income, limit their promotion, or terminate contracts due to marriage, pregnancy, giving birth, lactation and others.
More specific articles have been added for the benefit of women such as installing a common room for pregnant women, and booking physical health checks.
Companies will be supervised and those who violate the regulations will be punished by departments of social security and work safety.
Menstrual leave has been a hot topic of discussion in China since last year.
Some provinces which have passed regulations providing for menstruation leave have been mulling over feedback received about it.
Many employees are unwilling to take leave, worrying it exposes their private affairs, according to a research in Guangdong province last year.
Employers also revealed a sense of pressure if they are required to grant paid menstrual leave -- the operational costs will pile up and it's hard to know if the employees are really sick or just cashing in the paid leaves.
Making paid menstrual leave mandatory was first proposed by Zhang Xiaomei, a national political advisor in 2011.
She argued more than 85 percent of females were adversely affected by menstruation, and 78.5 percent of them didn't receive proper care during their periods.