In today's trending, a masked truck caught driving 75 kmph on highway in Hubei province, and a college student addicted to books has literally turned his dormitory into a small library.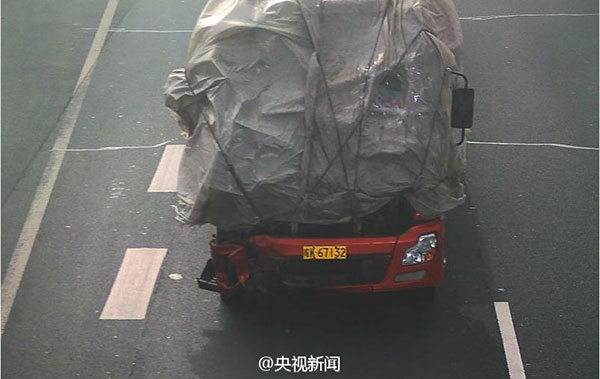 A truck covered in plastic cloth is driven along a highway in Central China's Hubei province. [Photo/Sina Weibo]
Masked truck caught driving 75 kmp on highway
An unruly driver was recently caught on a highway in Central China's Hubei province for operating a masked truck at the speed of 75 kilometers per hour, CCTV reported.
A huge plastic cloth covered the front of the truck, including the front window and rear-view mirrors, masking the vehicle and leaving only an open circle of less than 20-centimeters in diameter for the driver to see traffic.
The driver said he had been through a pileup accident in Jingmen city, Hubei province, which cost him 3,000 yuan ($462 dollars).
Since there was little money left, the driver said he wanted to drive the damaged truck all the way back to a repair shop that he is familiar with in Nanyang, Central China's Henan province.
But driving on a highway in winter is not a pleasant journey, especially from behind a broken window. So he came up with the idea of covering the truck with the plastic material.
The truck was pulled off the road for severe safety concerns and police have warned the driver of the violation.
In our next story, a student's collection of 5,000 books takes over his dorm room.