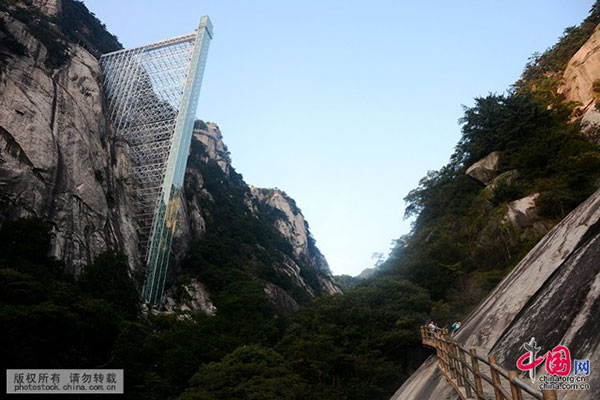 A sightseeing elevator can be seen at the Tiantangzhai scenic spot in Luotian County in Hubei province. [Photo/china.com.cn]
A sightseeing glass elevator on a cliff
The market for see-through viewing platforms is heating up in China. A tourist destination in Central China's Hubei province has taken it to new heights this month with a pair of suspended, transparent elevators on a cliff that lfits tourists up 145 meters.
The pair of sightseeing elevators were built by the Tiantangzhai scenic spot in Luotian County and opened for business on Sept 1.
Total cost for the project is estimated at 20 million yuan ($3.1 million). The elevators are located 1,080 meters above sea level and have an operating speed of 2.5 meters per second. The capacity is 18 tourists at a time. They can reach the top in 54 seconds. The operation can handle as many as many as 3,000 tourists a day.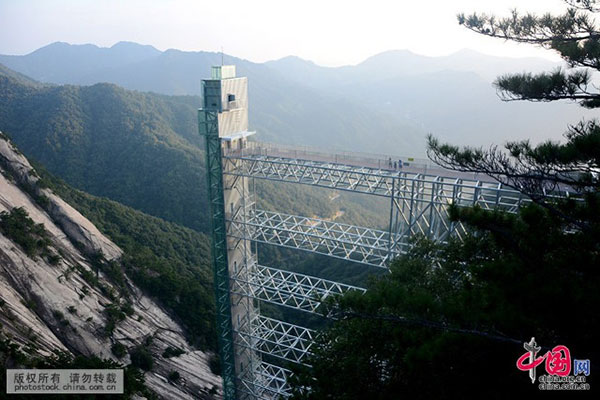 A sightseeing elevator can be seen at the Tiantangzhai scenic spot in Luotian County in Hubei province. [Photo/china.com.cn]
In our next story, NYC umbrella dad becomes a hit on Chinese social media.