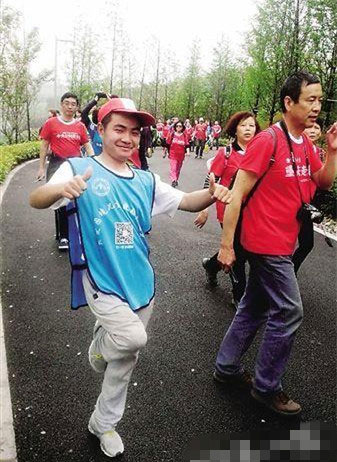 File photo of the 28-year-old Xiong Jun [Photo from web]
The 'Forrest Gump of Chongqing' is a one-legged marathon runner
A 28-year-old man suffering from polio from Southwest China's Chongqing has been dubbed the "Forrest Gump of Chongqing" on Chinese social media after managing to run 20 marathons across China dating back to April of last year using only his left leg, Chongqing Evening News reported.
Xiong Jun, 1.65 meters tall, suffers from polio and walks with only his left leg. Despite his illness, he has become a marathon enthusiast, as well as a volunteer to help others in need.
Xiong participated in five marathons before the newspaper interviewed him in April, 2014. Since then, he's particpated in another 20 races. He can finish a 5 km mini-marathon in 48 minutes.
"I give lectures at schools sharing my running experiences," Xiong told Chongqing Evening News. "Meanwhile, I also give psychological counseling and career advice to people with disabilities."
He fell in love with a young woman following a speech he made at a school. Now he and the girl run a breakfast restaurant together.
Inspired by Xiong's incredible perseverance, more and more people have begun joining him in fitness exercises.
Xiong told reporters that he will organize a hiking tour in Tibet next year for 30 disabled people who want to experience trekking the nature.
In our next story, don't look down, this glass elevator provides a stunning view.