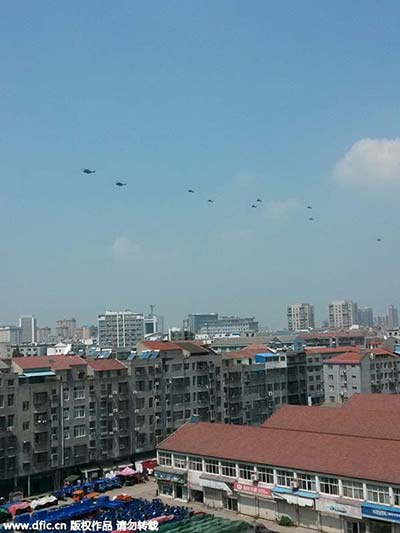 A formation of helicopters performs in Xiantao, Central China's Hubei province, Sept 9, 2015. [photo/IC]
Captain brings formation of helicopters to hometown
A formation of 10 military helicopters and transport helicopters flew over the city of Xiantao in Central China's Hubei province Wednesday and performed stunt flying in a rare effort to pay tribute to the hometown of an air force captain, thepaper.cn reported Thursday.
The fleet was headed by Capt. Xu Desheng, who opened the Sept 3 military parade in Beijing by leading his helicopter formation to fly over Tian'anmen Square.
The 40-year-old requested a special detour on his way back to the military base to pay tribute to his hometown.
In our last story, senior citizens looking for love attend their very own dating fair.