In today's trending, the head of a Michelangelo masterpiece is rendered in toothpicks, a college leader is roundly criticized when a video of him with freshmen looks too much like a military review, a giant swordfish caught off Qingdao tips the scales at 310 kg and a delusional man who thinks he's invisible is accused of robbing a hospital.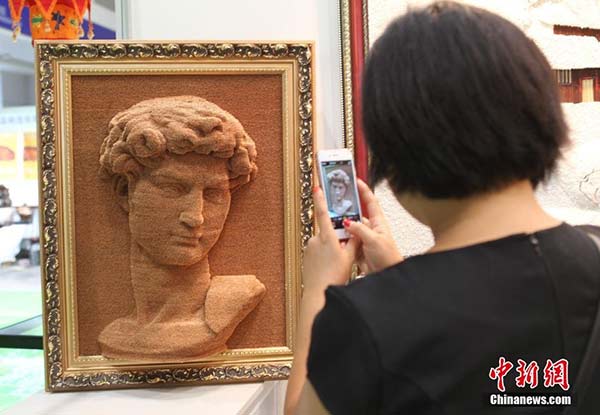 A woman takes a photo of a portrait of David at an art exhibition in Chongqing. [Photo/Chinanews.com]
Elderly artist creates portrait of 'David' out of 87,000 toothpicks
An elderly Chongqing artist created a pretty impressive three-dimensional portrait of the head of Michelangelo's David by using only tiny wooden sticks, Chinanews.com reported.
Tang Jialu, a 68-year-old art enthusiast from Hechuan district spent two and a half months and 87,000 toothpicks creating the portrait with the help of a friend.
Tang said he started experimenting with various unusual items in his painting about two years ago, such as beans, rapeseeds, nails, buttons and cotton buds to create different kinds of images.
Tang's artwork, displayed at an art exhibition in Chongqing, attracted quite a lot of attention with visitors showing particular interest in his David portrait.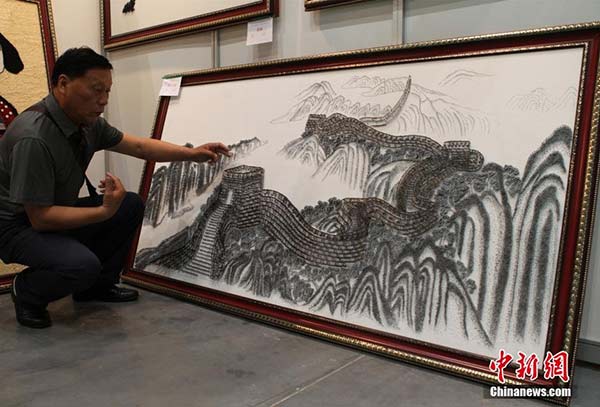 Artist Tang Jialu with his one piece of his work The Iron Great Wall. [Photo/Chinanews.com]
In our next story, a college officials's lighthearted "review" of freshmen ignites an Internet storm.