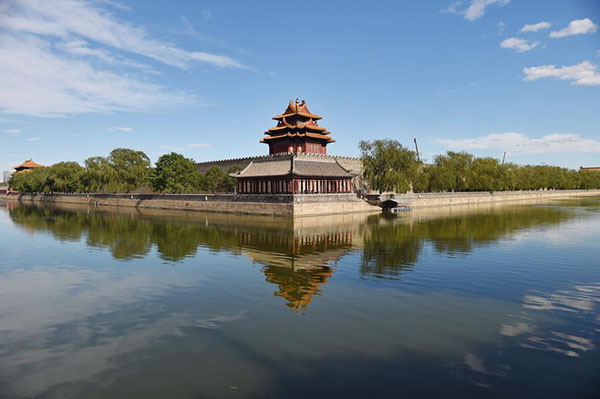 A turret of the Forbidden City under blue sky in Beijing in this photo taken on July 12, 2015. [Photo/Xinhua]
BEIJING - Particles responsible for much of China's air pollution decreased 17.4 percent during the first half of this year, an official said on Monday.
Drop of the density of PM 2.5, or particles measuring less than 2.5 microns in diameter, in 161 cities was due to the adoption of a new environmental protection standard introduced in 2012, which was set to be implemented nationwide by 2016, according to Wu Xiaoqing, China's vice-environmental minister.
The new standard added PM 2.5 and Ozone to the list of pollutants that authorities monitor to determine a region's air quality.
Speaking here at a forum on environment and development, Wu said that China will further open its market, support research and development and upgrade environmental and technical standards to continuously beef up environmental protection.
Air, water and soil pollution will all be targeted in the ongoing anti-pollution campaign, said Wu.