In today's trending, Shaolin monks' campaign against cellphones fall on deaf ears, wrongly accused boys awarded Good Samaritan prize, Anhui's "sky farm", and a tiger cub raised by a dog.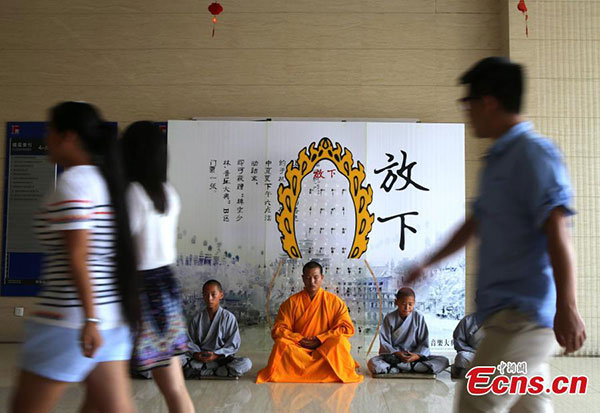 People walk past the monks sitting on the ground in the office building.[Photo/Ecns.cn]
Shaolin monks vs cellphones
Paying visitors flock to the Shaolin Temple to admire the ancient art of kung fu, but when the Shaolin monks came to an office building in Zhengzhou, they were met with complete indifference – because they were campaigning against the use of the ubiquitous cellphones, Chinanews.com reported.
The monks sat on the ground in the building from 10 am to 6 pm on Tuesday to encourage people to give up their cellphones. Anyone who agreed to give up their phones were offered a free ticket to a Shaolin concert.
But to the monks' embarrassment, not a single person took up the offer the entire day.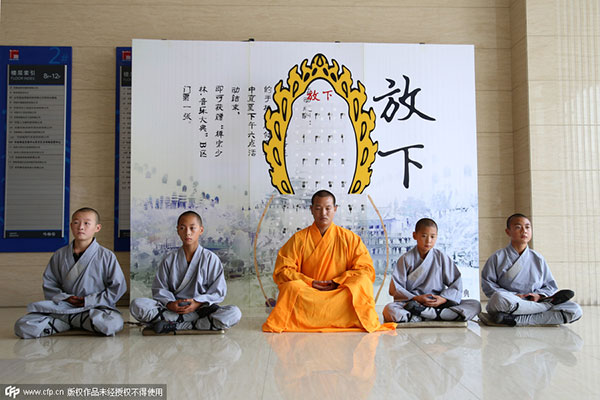 The monks sat on the ground of the office buidling.[Photo/CFP]
In our next story, charity recognizes wrongly-accused boys as Good Samaritans.