In today's trending, Wuhan residents take part in duck neck eating competition, formerly conjoined twin thanks doctors 19 years later, professor chases hit and run car, and villager paints cliff green for better fengshui.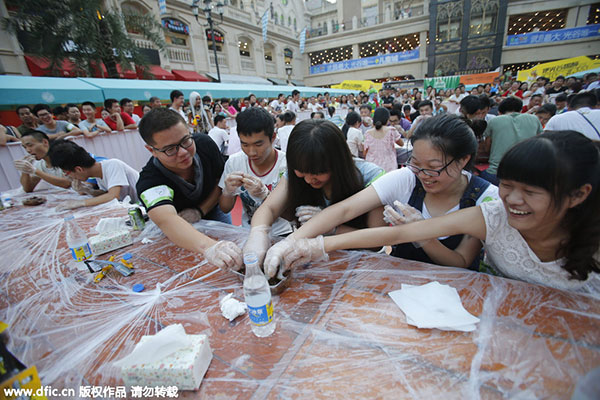 Competitors enjoyed themselves during the contest.[Photo/IC]
Wuhan holds duck neck eating contest
As eating contests increase in popularity nationwide, residents in Wuhan, Hubei province flocked to a duck neck eating contest held in the city on Sunday, to demonstrate their enthusiasm for the local specialty, cfp reported.
According to the rules, participants were asked to finish a 350g box of duck necks and leave no more than 150g of bones in as short a time as possible.
The organizer has provided over 1,000 boxes of duck necks for the unusual competition, which attracted many foodies, including young ladies and children.
Many passers-by gathered around to catch a glimpse of the event.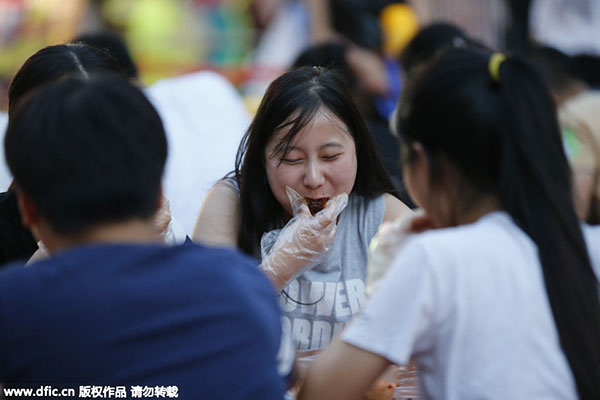 A girl gobbles up a duck neck during the competition.[Photo/IC]
In our next story, a grateful formerly conjoined twin returns to thank his doctors 19 years later.