In today's trending, a man tries to liquidate his alpaca for funds, man hits himself so hard that he faints, pet pig grows to enormous proportions, and a loader transports trapped residents over flood.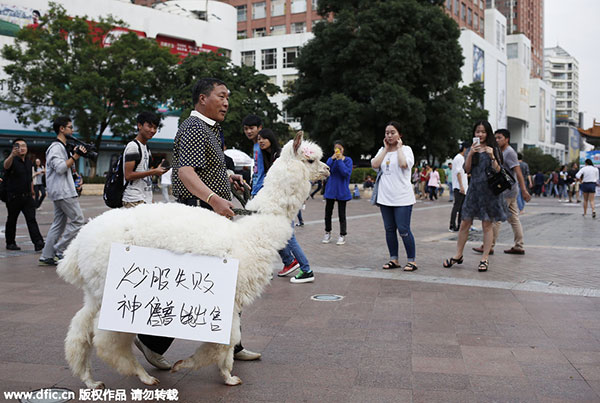 The man with his alpaca. [Photo/IC]
Stock owner wants to liquidate his alpaca
A man surnamed Fang walked his pet alpaca down the street in Kunming, Yunnan province on Tuesday, advertising it for sale and drawing a crowd of curious onlookers. "Purebred cutie from New Zealand, cost 100 thousand yuan 2 years ago," he said of "Big White", the adorable alpaca.
On the fluffy white body, he had hung a sign reading "got trapped in the stock market, selling my mythical creature". The alpaca, or literally "grass mud horse" in Chinese, is often touted as a "mythical creature" by Chinese netizens.
"My daughter is heading off to college now, my money is tied up in stocks, my cars and apartments are mortgaged. So I need to liquidate my alpaca to meet my cash flow problems," Fang said.
"An alpaca is much cheaper to keep than a dog!" Fang explained the recipe for the perfect alpaca meal: mixing carrots, grass, clover, and soya beans. The alpaca needs to be fed three meals and six drinks per day, and its vegetarian meals are right on trend. Why not take it home?
In our next story, contrite boyfriend hits himself so hard that he faints.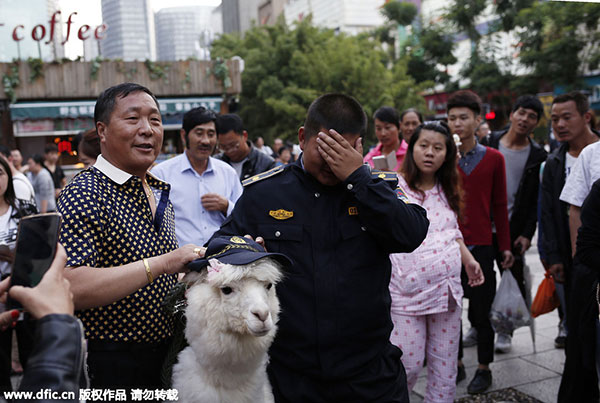 The alpaca wears a policeman's uniform cap. [Photo/IC]