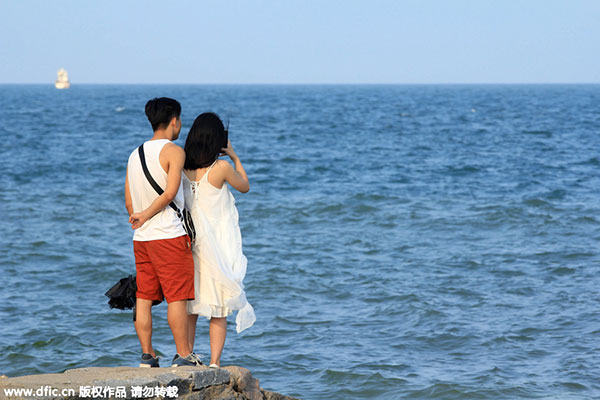 A couple overlooks the sea. Photo not related to the story. [Photo/IC]
Plaintiff and defendant become future in-laws
A bondsman who was sued when his brother failed to return 100,000 yuan ($16,110) that he had borrowed three years ago became a matchmaker for his son and plaintiff's daughter, reported a newspaper in Hangzhou, Zhejiang province, on Wednesday.
The bondsman came to court in Hangzhou, but before the proceeding could start, he asked the plaintiff's daughter who was accompanying her father if she was single.
When she told him that she was, the bondsman said she was a good match for his son, who is also single.
Luckily, the plaintiff was also worried about his daughter's marriage, and both of them agreed to have a go at matchmaking.
Two sides also decided to make peace. The defendant will pay back the loan in three months without interest as agreed by the plaintiff.
Up next: Girl's perfect sketch lands suspect in custody.