In today's trending, college students rent billboards to diplay their love of boy band, court case turns into matchmaking, fine arts graduate uses her skill to catch suspect, and grandmas line up in front of pharmacy.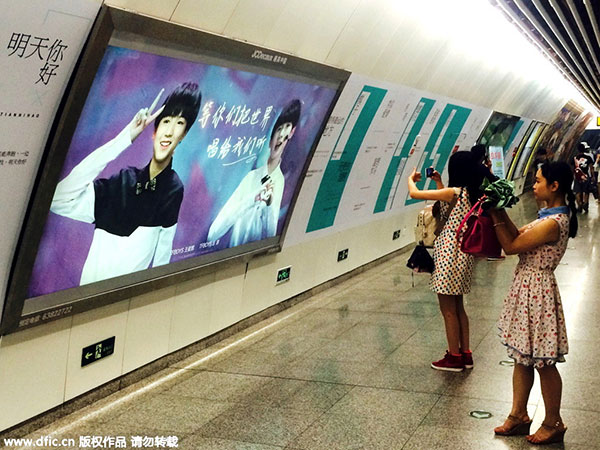 Two fans of TFBOYS take photos of the newly installed billboards in the subway. [Photo/IC]
College students rent billboards to display their love
Four college girls in Chongqing chipped in for 72 square meters billboards in subway to advertise their favorite idol -- TFBOYS, three young new singers with average age of 15 in China, reported Chongqing Daily on Wednesday.
They paid for four billboards, including two group photos of two members out of three from the band and two individual photos. Plus, they also pasted large-size posters on the wall with the band's lyrics.
Many passersby started taking photos with the billboards as soon as they went up. Some fans of the TFBOYS even went to the subway station just to take photos.
The girls, who have nothing to do with the official TFBOYS's group, paid for the ads out of their love for the band. It is estimated that the billboards at the Chongqing station will cost them 128,000 yuan ($20,620) for two weeks, said an ads company, although this cannot be confirmed as the girls have not revealed the price.
One of the girls said the money came from their budget and scholarship. They also donated some to charity to help poor children have free lunches.
In our next story, court premises become ground for matchmaking.