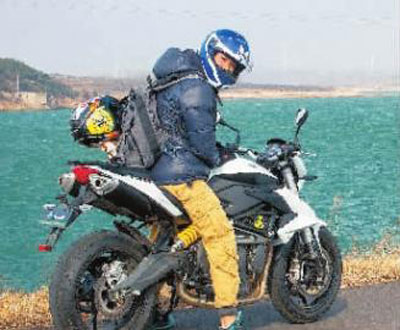 Xu Jinliang, a man who is on a pan-China tour. [Photo from the Web]
Pan-China tour dream made possible by crowd-funding
Online crowd-funding helped a college student realize his dream of a pan-China tour, reported xwh.cn.
Xu Jinliang, a senior student, dreamed of journeying to every corner of China. To raise the funds, he turned to crowd-funding. Xu posted the pictures he took on previous journeys online and promised investors postcards and photos featuring the landscapes and local customs of the places he would go to. In this way, Xu collected more than 8,000 yuan ($1,290).
"Some of the people who gave me money are friends I made during travels, and some are strangers. But they have one thing in common – they all dream of touring the country. But many of them could not pursue their dream because they have to make a living. So I can say I carry the dreams of many on my shoulders."
Xu also obtained some funds and photography equipment from a company before he started his journey. Xu's pan-China tour began on March 21 from his hometown in the coastal city of Weihai in East China's Shandong province, and he will go to Lhasa, the capital of Tibet autonomous region, Urumqi, the capital of Xinjiang Uygur autonomous region, and Mohe county in Heilongjiang province, the northernmost part of China.
That's all for trending today, do check back tomorrow for more stories!