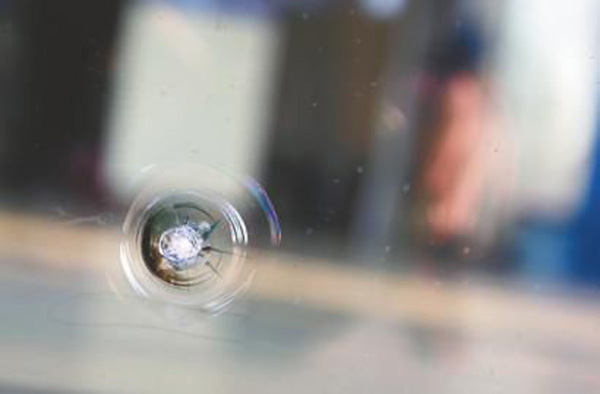 A steel ball was shot onto a the glass door of a bank near the dancing group. [Photo from Jinan Times]
Steel balls fired at dancers
Group dancers in Jinan of Shandong province were shot with steel balls by unidentified people, Jinan Times reported.
A woman surnamed Ji said at 8 pm on Jan 16, two group dancers in her more than 20-member team were hit in the arm and shoulder. Luckily they were wearing down coats and were not injured. Later a ball was thrown at a glass door of a bank in front of them, leaving a visible dent.
In the next two days more steel balls were fired, hitting some of them. They were unable to determine the direction of the ball. Some of the dancers have stopped performing out of fear. They have reported to the police, and an investigation is underway.