Is smoking bacon the cause of China's smog problems? Find the answer to this and more in this installment of all the stories trending in China.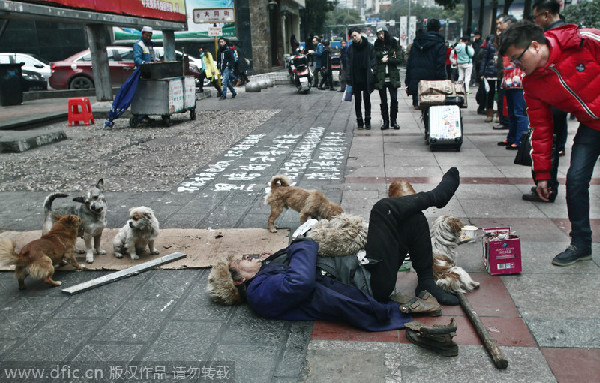 An elderly beggar takes a nap on a street with a group of stray dogs in Guiyang, capital city of Southwest China's Guizhou province, Jan 20, 2015. [Photo/IC]
Beggar devotes life to dogs
A 76-year-old beggar with seven abandoned dogs in Guiyang city, Guizhou province started trending online in China after passersby posted images of him and his dogs.
The man is often seen on the streets of Guiyang with his dogs and a sign written on the ground calling for people to better protect stray animals.
According to icpress.cn, the old man says he uses the donations to pay for his and his dogs' living expenses.