Breeders caught abusing one-month-old tiger cub
A video that shows two breeders brutally torturing a one-month-old South China Tiger has come under fire, Qianjiang Evening News reported.
The two workers from a zoo in Nanchang city of Jiangxi province are seen pinching the cub's neck and hitting it in the face and head. They also swirled the animal in circles taking one of its paws before throwing it to the ground. The cub, which is under China's national first-class protection, was too little to escape or counterattack.
The zoo confirmed the authenticity of the video, saying it happened on Tuesday morning. It said the breeders have been dismissed, and pledged to overhaul its management.
In our next story we reveal that miracles do happen.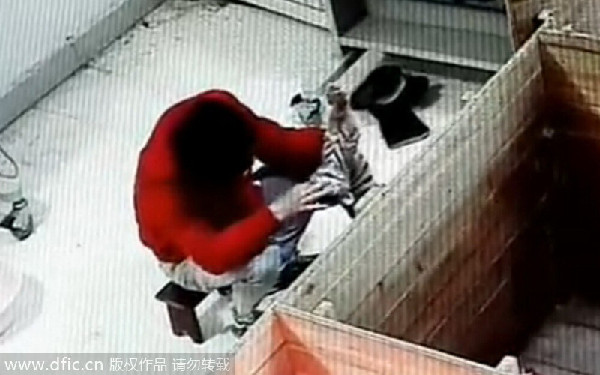 Screen grab of a video shows a breeder abusing a South China Tiger cub,at a zoo in Nanchang, Jan 20. [Photo/IC]