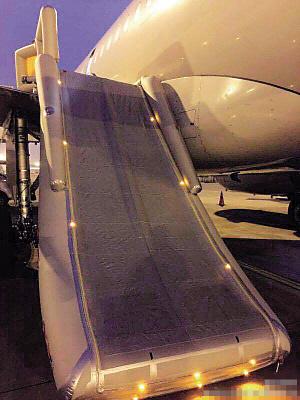 The slide was triggered after a passenger opened the emergency exit at Chongqing Jiangbei Airport in Southwest China, Monday. [Photo/weibo.com/carnoc]
Another passenger opens emergency exit
When we reported about a Kunming man opening an airplane's emergency exit on Jan 10, we didn't think we would write another similar story so soon.
A passenger who opened the emergency exit right after the plane stopped moving on the runway in a secure landing, triggering the slide on the aircraft's left wing to be automatically deployed, was taken away and ordered to pay monetary compensation, Chongqing Evening News reported.
The incident took place at Chongqing Jiangbei Airport in Southwest China at 6:30 pm on Monday on West Air flight PM6272 from Lahsa to Chongqing.
Find out why a sanitation worker thought this man was a corpse.