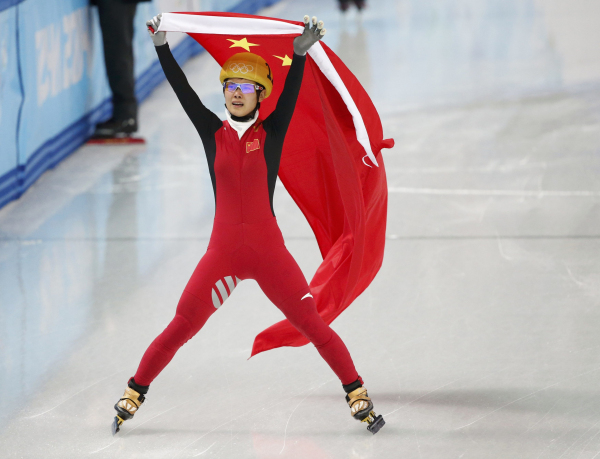 China's Li Jianrou celebrates with her country's flag after winning the women's 500 metres short track speed skating final event at the Iceberg Skating Palace during the 2014 Sochi Winter Olympics February 13, 2014. [Photo/Agencies]
Although it was considered good luck for China's Li Jianrou, a middle and long distance specialist, to take the gold medal in the women's 500m short track speed skating at the Sochi Winter Olympic Games, the 27-year-old said such miracles only happen for people who work hard.
At the 500m final on Thursday, Li avoided a three-skater crash to easily skate to the gold medal. It was China's first gold at the Sochi Games.
"I was very calm in the final since, for a middle and long distance racer like me, reaching the 500m final is a very good thing," Li said after the victory.
She said when she saw the other three skaters crash, "I knew that a miracle had really happened for me. But there would be no miracle without hard work."
Li, 27, was the surprise winner of the event, after the favorite, China's Fan Kexin, fell earlier in her semifinal to miss a podium chance.
In the final, the three other skaters crashed shortly after the start out front of Li, which left the way to victory open to her.
The referees determined that Elise Christie of Britain caused the crash, and she was disqualified minutes after the race concluded. As a result, Vancouver 2010 bronze medallist Arianna Fontana of Italy won the silver and Park Seung-hi of South Korea finished third for bronze.
Li finished in 45.263 seconds, nearly six seconds ahead of Fontana. Park overcame a false start to reach the medal podium.
"I felt no nervous in the final and my coach told me to overcome the others in the last two laps. That's why I didn't start that fast," Li said.