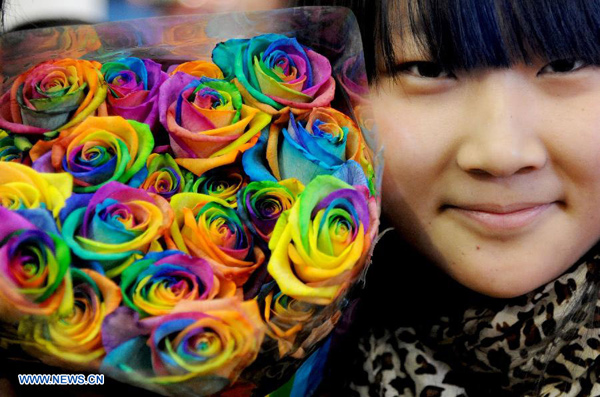 A consumer shows a bouquet of seven-color roses in Shenyang, capital of northeast China's Liaoning Province, Feb. 10, 2014. As the Valentine's Day approaches, various commodities for lovers are welcomed among consumers. [Photo/Xinhua] 
It's that time of year when there is an eagerness to surprise loved ones with gifts and greetings. Yes, Valentine's Day, which falls on Feb 14, is making its mark on buying habits.
Zhou Yao, married for five years, received a NanoCare facial steamer from her husband.
"Chinese people are often too shy to express love or affection to their loved ones. Valentine's Day serves as a perfect occasion," she said. "Gift-giving is not a must, but receiving a gift makes me feel warm and cared for."
Chinese romantics are increasingly buying premium chocolate and other confectionaries for the romantic day, so it is a "sweet" season for some manufacturers, according to Jason Yu, general manager of Kantar Worldpanel, a global researcher of buying habits.
Many men take their date out for a nice meal. Izzie Huang, marketing manager with DiningCity, a high-end restaurant guild website, said medium-range deals — priced around 500 yuan ($82) for two people — are the best sellers, while those costing more are less attractive.
Because of the government's ongoing austerity campaign to curb luxury spending with public funds, sales of high-end goods and dining at luxury restaurants have slumped, Huang said. About 70 percent of their deals are booked by women and are paid for by their men.
"Chinese women put more thought into planning the special day than men do," she said.
Chinese e-retailers, who it can strongly be argued invented Singles' Day and successfully turned Nov 11 into the country's biggest online shopping carnival, also couldn't resist the opportunity to cash in on the special occasion, even one attracting non-singles.
Statistics from e-commerce retailer Amazon China show the number of men who look for Valentines' gifts for their female partners is three times that of women who look for gifts for men.
The most popular gifts at Amazon China are clothes, handbags, luggage and electronics.
According to marketplace website Taobao, flowers and chocolates are still the mainstream gifts for the special day, but their popularity is decreasing with more people looking for something special for their loved ones.
Taobao said purchases of flowers are estimated to decrease to 6.12 percent of all items bought for Valentine's Day.
Tailor-made and personalized gifts stand out as the new hot options for the lovers' day.
Nearly 70 percent of people said at an online forum of Taobao said they would like to have a custom-made gift for Valentine's Day.