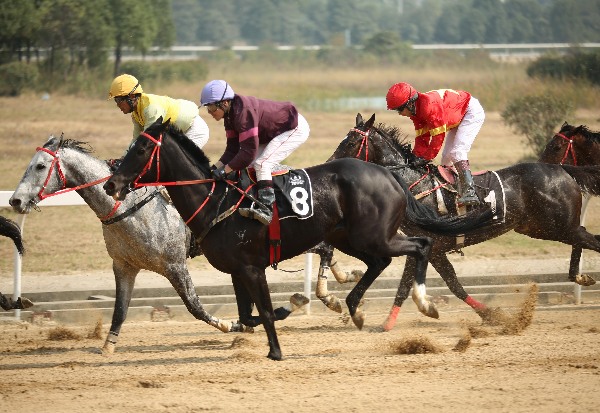 An international horse-racing festival takes place in Wuhan, Hubei province. Rumors of China's lifting a ban on horse-race betting have been circulating, and investors already are putting money into constructing training facilities in big cities such as Beijing and Tianjian.[Photo by Ke Hao/Xinhua]
While gambling remains illegal on the Chinese mainland, Europe's largest horse-race betting operator PMU is keeping a close eye on China's emerging equestrian industry, hoping to gain first-mover advantage once there is any sign of the ban being lifted.
The recent growing interest in equestrian sports in China has prompted Philippe Germond, chief executive of the Paris-based betting operator, to frequently travel to various Chinese cities to promote the French business model of horse-race betting in a market he believes could be worth 100 billion euros annually ($136 billion) if legalized.
"If at some point in the future the Chinese government decides to legalize the betting on horse races, we can offer the French business model that may fit the expectations of the Chinese government," Germond told China Daily in a recent interview.
In France, about 80 percent of the funding of the horse-racing industry comes from betting revenue. The entire net profit of PMU goes to the financing of the French horse- racing industry, including breeding, training and organizing races, said Germond.
Meanwhile, PMU, while being a private company, is managed by a committee consisting of members of the French Ministry of Agriculture and the Ministry of Economy and Finance, which means that the business is highly controlled and regulated by the state, Germond said.
PMU is also willing to transfer to China its system of communication and information technology that manages and monitors 12,000 betting outlets across France in real time and processes billions of transactions on a yearly basis.
"What we are trying to demonstrate is that horse-race betting can be operated in a way that is highly controlled by the government with strong IT technology to ensure there is no cheating or manipulation of the races," he said.
Rumors of China lifting the ban on horse-race betting have long been circulating. Local and foreign investors have already placed their bets by investing in the construction of racetracks, breeding horses and training facilities in cities including Beijing, Shanghai, Tianjin and Wuhan, the capital of Hubei province.