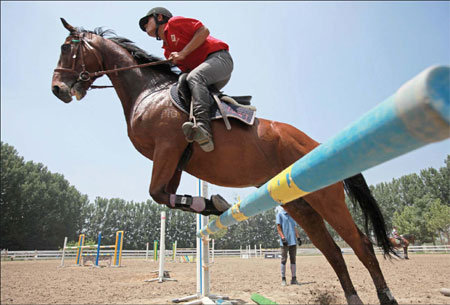 Equestrian sport, like golf and yachting, has become popular among the affluent Chinese. [Photo/China Daily] 
Though the equestrian industry in China is growing, riding centers need more professional services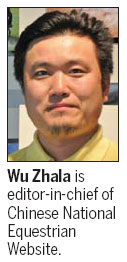 Throughout China's storied history, the horse has been integral to the nation's longevity. Few people probably realize that the Chinese invented the stirrup to use the animal in their military, farms and transport. It was customary for horses to be entombed with their owners. Today equestrianism is taking on a different but growing significance. With the advent of the nation's upper crust of wealthy individuals, horses are once again highly prized as the affluent seek image-enhancing outlets of entertainment, along with playing golf or cruising in a yacht.
More and more equestrian clubs are popping up in major cities and there are now nearly 200 in Beijing.
And though China will not be competing in any equestrian competition in the London Olympics, there is budding market demand for investments by international equestrian organizations as well as for domestic equine medical services, training centers and professional horse riders.
But, most surprisingly, there is high demand for internationally bred horses, even though the nation has 7.2 million of its own horses, the second-highest number in the world after the United States.
"After golf and yachting, equestrian is a new interest that leads the recreation market for the Chinese wealthy," says Wu Zhala, editor-in-chief of the Chinese National Equestrian Website.
After China hosted equestrian competitions in Hong Kong for the 2008 Beijing Olympics, the interest in horse riding blossomed, Since then, according to Wu, China has become the largest importer of horses.
Between 2007 and 2011, imports of horses increased 10-fold to 4,000, the China Horse Industry Association says. The reason why Chinese riders and centers are not using their own native horses is that the speedy Chinese horses are not adept at jumping, Wu says.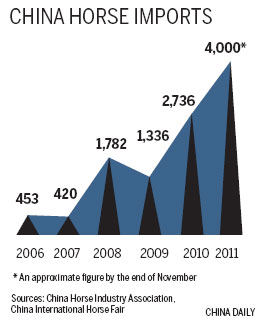 The Ili, Sanhe and Xinan hores, three native breeds, are unsuitable to compete in equestrian events that include show jumping, dressage and eventing.
"The sport is from Europe, so only horses from Europe are suitable for competitions. The increasing popularity of equestrianism has created a huge demand for imports," Wu says.
He estimates that about 470,000 Chinese equestrian lovers across the country participate in the sport every year. Many are buying their own horses at steep prices.
The prices of international horses vary according to breed. Warmbloods, which are middle-weight horses that originate from Europe, cost from 2,000 euros ($2448) if they are not trained to more than 10 million euros for those that have won titles in international competitions.
To sate the need for more international breeds, overseas stud farms are entering the mainland market.
Jack Lubbers, sales manager for VDL Stud - a breeder under KWPN, the Royal Warmblood Studbook of the Netherlands - says Chinese clients are eager to learn about the European way of handling, show jumping and dressage.
VDL has exported its horses to more than 70 countries and has sold more than 200 horses to individual Chinese riders and riding clubs.
"We have many clients but no real business partner (in China) like we have in other countries. VDL is looking for long-term trade partners here," Lubbers says.